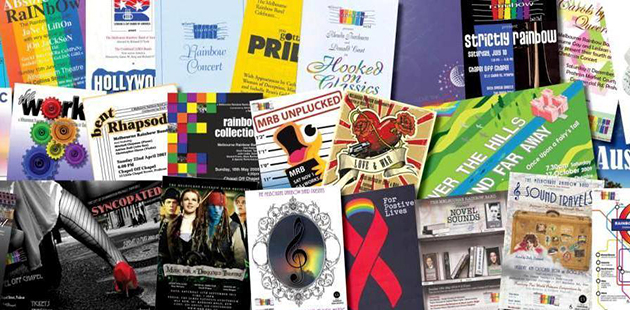 Since it formed in 1995, the Melbourne Rainbow Band has grown to become a proud musical voice for Melbourne's GLBTI community. Come celebrate 20 years of pride and music in Rainbow Recollections on Saturday 26 September 2015.
The second of their 20th anniversary concerts, Rainbow Recollections will feature a selection of their favourite pieces from a back catalogue spanning two decades from the classic pop styling of Elton John to the stomping blues of Dixieland Jam. Musical highlights include: Olympic Fanfare from John William's Symphonic Marches; Alfred Reed's The Hounds of Spring; Selections from Les Miserables and Pacem – A Hymn for Peace.
The concert will also see four of its five previous Musical Directors including Gregory Peterson (2014 – 2015), David Wisken (2011 – 2013),  Mark Lyall (2008 – 2010), and inaugural MD Richard O'Toole (1995-2003), return to conduct the concert's eclectic repertoire – with narration by band members to highlight each work's significance in the program.
For Ben Boreham, who has played tuba with the band, soon after its inception, a favourite piece on the night is the challenging Hounds of Spring. "I remember the great sense of achievement we gained from learning the piece and how amazing it was to then perform it for our family and friends as well as at concerts in Los Angeles and San Francisco during the Band's trip to the US in 1997."
The Melbourne Rainbow band started when trumpet player Chris McIntyre placed small ads in the Melbourne Star Observer and Brother Sister community newspapers in 1995. Half a dozen players answered those ads, meeting in a church hall to create and play some wonderful music. The band has now grown to 43 players, demonstrating that "from little things, big things grow".
Don't miss out on your chance to join Australia's premier gay and lesbian community concert band in a celebration of 20 fabulous years of music.
Rainbow Connections
James Tatoulis Auditorium – Methodist Ladies College, 207 Barkers Road, Kew
Saturday 26 September 2015 – 8.00pm
Bookings: www.trybooking.com or at the door (if available)
For more information, visit: www.mrb.org.au for details.
Image: courtesy of Melbourne Rainbow Band