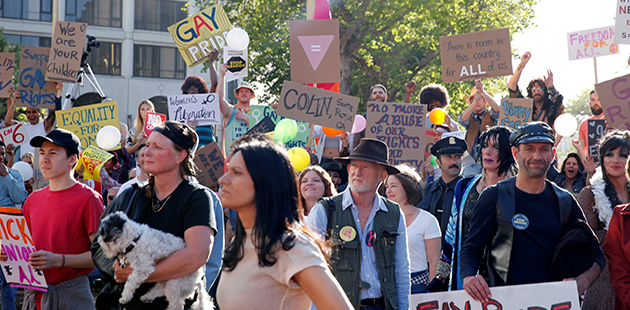 Direct from the US and premiering on SBS tonight (Saturday 11 March), When We Rise is the brand new highly anticipated epic drama series, written and created by Academy Award-winning screenwriter Dustin Lance Black (Milk).
When We Rise chronicles the real-life personal and political struggles, setbacks and triumphs of a diverse family of LGBT men and women who helped pioneer one of the last legs of the US Civil rights movement from its turbulent infancy in the 2oth century to the once unfathomable successes of today.
The ABC Studios' dramatic 4 x 2 hour event series features two of Australia's most prominent actors, Guy Pearce (Jack Irish, Adventures of Priscilla, Queen of Desert) as LGBT activist Cleve Jones and Rachel Griffiths (Brothers & Sisters, Muriel's Wedding) who stars as social justice activist, Diane.
The highly anticipated mini-series also features, Mary-Louise Parker (Weeds, Angels in America) as women's rights leader Roma Guy, Michael Kenneth Williams (Boardwalk Empire, The Wire) as African-American community organizer Ken Jones and Ivory Aquino as transgender-activist Cecilia Chung.
Guest cast includes Rosie O'Donnell (A League of Their Own), Whoopi Goldberg (Ghost, Sister Act), Dylan Walsh (Nip/Tuck), David Hyde Pierce (Frasier) and Kevin McHale (Glee).
When We Rise is executive produced by Dustin Lance Black (Milk, Big Love, J. Edgar), Gus Van Sant (Milk, Elephant, Good Will Hunting) Laurence Mark (Julie & Julia, Dreamgirls, I, Robot, Jerry Maguire), and Bruce Cohen (American Beauty, Milk, Silver Linings Playbook). Van Sant directs the two-hour premiere of the eight hour mini-series event. When We Rise is produced by ABC Studios.
When We Rise premieres tonight (Saturday 11 March) at 8.30pm on SBS. It is also available to view on SBS On Demand.
Image: Film still from When We Rise – courtesy of ABC Studios / SBS