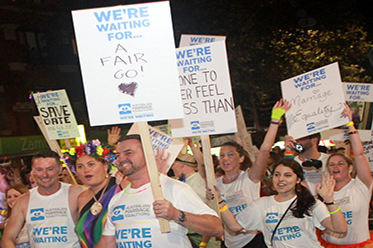 Marriage equality advocates have called on other states to follow NSW's lead by introducing laws to remove the requirement for transgender partners to divorce before their gender is legally recognised.
"These laws show nothing but contempt for the institution of marriage and the solemn vows marriage partners take," says Australian Marriage Equality National Director, Rodney Croome.
"We call on legislators in other states to follow NSW's lead and protect the marriages of transgender Australians."
NSW Independent Alex Greenwich has joined with the Greens' Mehreen Faruqi to introduce legislation to remove the legal requirement that transgender married partners must divorce before the state will recognise their gender re-assignment.
The reform has also been raised in the Tasmanian election campaign where the Green and Labor Party's have both given it in-principle support.
The NSW initiative comes as Sydney celebrated the annual Mardi Gras Parade on Saturday evening. Mr Croome said the Australian Marriage Equality (AME) contingent featured gay and straight Australians from all over the nation marching together.
"Our theme is that as a nation 'We're Waiting' for marriage equality and while we wait we will work together to achieve reform," said Mr Croome.
Also marching with AME was Louisa Wall, the New Zealand MP who introduced the legislation that achieved marriage equality in New Zealand, and several Australian couples married under her law.
Ms Wall has released a video in which she calls on Tony Abbott to allow a free vote on marriage equality, saying "don't be afraid of democracy". To view her video, click here.
Image: Australian Marriage Equality contingent at the Mardi Gras Parade – by Matt Akersten. Courtesy of www.samesame.com.au