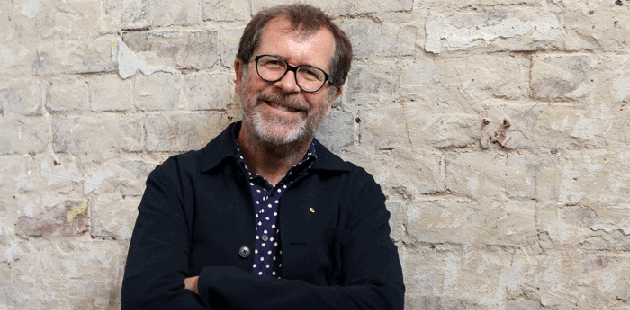 Holding the Man film director Neil Armfield has received the Victorian AIDS Council (VAC) President's Award at this year's annual general meeting on Sunday 16 November, which also saw the inaugural presentation of the Greig Friday Leadership Award.
Neil Armfield has made a commitment throughout his career to giving voice to issues central to the lives of gay men. He directed the first ever Australian production of the epic play Angels in America, about the early days of the AIDS epidemic in New York, and was instrumental in bringing Timothy Conigrave's memoir Holding the Man to the big screen.
"The film itself was made so much better for the involvement of VAC," said Armfield. "The whole organisation was incredibly welcoming and gave us such depth and insight into the community as it existed in the 80s, where most of the film was set. There's something lovely about the cred of a community organisation. These people are the real deal."
The inaugural Greig Friday Leadership Award, presented at the AGM by Greig's father and sister, is named in honour of long-serving VAC volunteer, who passed away earlier this year along with his mother Carol in the Germanwings Flight 4U9525 tragedy, and recognises young leaders in our community.
The Greig Friday Leadership Award was presented to peer education volunteer Jesse Oey, who facilitates Young and Gay, the same group Greig Friday was a part of when he first became involved with the organisation.
VAC CEO Simon Ruth said the award was a fitting way to honour Greig's legacy with VAC. "Greig was an astounding young leader for VAC. He appeared on our campaigns, he set up the Young and Gay Alumni, he was acknowledged this year by GLOBE, winning their Volunteer of the Year Award," said Ruth.
"After his far too early death this year we decided to establish the Greig Friday Leadership Award. He was still a young leader himself at the time of his death. We were ecstatic to give that award to Jesse Oey, and it was wonderful to have Greig's family present as well—we've developed a very strong and warm relationship with them this year."
VAC's highest honour is Life Membership of the organisation, which was this year awarded to the original VAC Board who served in 1984. Five of the original 12 Board members were present to receive their Life Memberships, including the first VAC President Phil Carswell. Three of the original 12 have since passed away.
"We have to always remember our heritage and our roots, and the AIDS Council was born out of activism," said Carswell. "It was born out of people standing up and taking control of a situation that looked absolutely uncontrollable. It was born out of a passion for people to fight to keep their lovers and friends alive."
"That honest, gut-wrenching passion is the foundation of the organisation. It always has been and it always will be. We honestly thought when this first started that this was going to be going for the rest of our lives, but I never thought we'd be at a stage in the epidemic where we actually have a chance to see the end of the epidemic, at least in Australia."
The 2016 VAC Award recipients are:
• Life Memberships: 1984 VAC Board
• President's Award: Neil Armfield
• Greig Friday Leadership Award: Jesse Oey
• Media Award: Archer Magazine
• Special Service Award: Daniel MacPhail and Chris Williams — co-founders of the PrEP'd for Change Facebook group
• Special Service Award: Zoe Belle Gender Collective — trans and gender diverse support and advocacy organisation
• Special Service Award: Harm Reduction Victoria — drug user rights and harm reduction organisation
A key part of the AGM is the 23rd Annual Keith Harbour Address. This year, given by Federal Labor MP Tim Watts, who was asked to deliver the address following his impassioned speech in Parliament House earlier this year in support of same-sex marriage, about his uncle who died from an AIDS-related illness when Watts was young.
The AGM also saw the results of elections to the Board, with three members re-elected and two members newly elected to the combined Victorian AIDS Council/Gay Men's Health Centre Board. Greg Carter, Christopher McDermott and Glenn Pannam were re-elected to the Board, with new members Jim Hyde and Aram Hosie also elected. Aram Hosie is the first trans board member elected to the organisation.
For more information, visit: www.vac.org.au for details.
Image: Neil Armfield