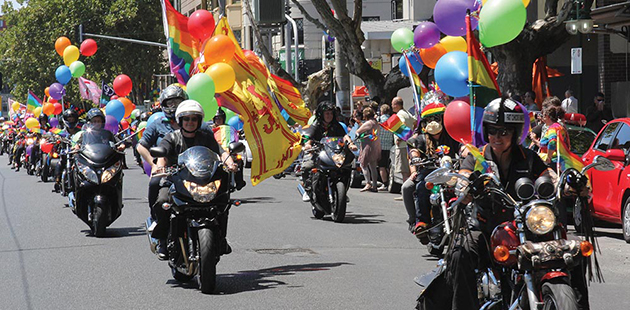 The 27th Midsumma Festival kicks off this weekend with the 2015 program featuring 141 events across 100 venues spanning exhibitions, performing arts, live music, film, literature and community events. The Australian Pride Network takes a look at a few events worth checking out:
Adolescent
fortyfive downstairs: 21 January – 1 February
Michael Griffiths isn't going to let turning 40 stop his prolonged adolescence. His really prolonged adolescence. Join him as he recalls touring in jukebox musicals, falling in love and why he can't go ten pin bowling. Featuring songs from Jersey Boys, Priscilla Queen of the Desert and lots of his first love, 80s pop!
Black Faggot
Gasworks Arts Park: 3 – 7 February
Black Faggot – the sensation of the Edinburgh, Auckland and Melbourne Fringe festivals will make Midsumma audiences laugh, cry and believe in the power of love as colourful characters collide in a series of hilarious and poignant monologues. Written by award-winning Samoan-Kiwi playwright Victor Rodger in response to the Destiny Church protest around New Zealand's Civil Union Bill.
Carnival and T Dance
Alexandra Gardens: Sunday 18 January
Kicking off 3 weeks of Midsumma fun, more than 100,000 people are expected at this favourite opening event. Featuring 5 hours of free entertainment on the Main Stage with a great mix of festival favourites and emerging LGBTI talent; checkout the Team Melbourne Beyond Blue Sporting Precinct; visit more than 140 community stalls and businesses in the Carnival Village; or watch the Dog Show. Then as the sun sets, dance the night away at T Dance – featuring a great line-up of DJ's.
Cartooning with Pride
DT's Hotel: 28 January – 7.00pm
The comic book industry has had a profound effect on the development of LGBTIQ culture as we know it today. Join us for a fun and informative evening at DTs Pub as we talk comic books, how they have influenced our lives, and how you can become involved in this growing industry. Featuring a panel of special local, interstate and international guests that include: Sonja Hammer, Jimmy Twin, Queenie Chan, Andrew Li, Michael Son, and Kenton Penley Miller.
Daniel Witthaus: Man On A Mission
Footscray Library: Thursday 5 February
Gay rights advocate, education activist and author Daniel Witthaus is an extraordinary man with an extraordinary mission to eliminate homophobia in Australia (and change the world, one cuppa at a time). Join Daniel for a cuppa and chat at the Footscray Library to speak on gay rights and issues, and reflect on his published works, including the very popular Beyond Priscilla: one gay man, one gay truck, one big idea.
Harvey Milk the Opera in Concert
St. Kilda Town Hall: 7 & 8 February
Harvey Milk made history by becoming the first openly gay man to be elected to public office in America. Ten months later, having secured the city's first gay rights ordinance, Harvey was shot and killed by fellow city supervisor Dan White. Presented in association with the Melbourne Gay and Lesbian Chorus and featuring six of Melbourne's most exciting operatic talents, Left Bauer Productions is proud to present the Australian premiere concert performance of Stewart Wallace and Michael Korie's ground breaking opera Harvey Milk.
Loving Repeating
Chapel Off Chapel: 21 January – 8 February
Exploring the subversive world of Gertrude Stein: her capricious love affair with language, with self-expression, and with her lifelong companion Alice B Toklas. The musical follows Stein from her student days in the late 19th century to the height of her artistic era in Paris and beyond.
Out of the closets, into the streets
City Library Gallery: 18 January – 8 February
Histories of Melbourne gay liberation pictures the very beginning of the gay liberation movement in Melbourne, through photographs, archival material, film footage, objects and personal mementos. As gay people found their voice in the early 1970s, artists, often at the very beginning of their careers, were there to capture meetings in lounge rooms, consciousness raising groups and street protests. The liberation movement meant 'being there', putting your body on the line.
Please Don't Look at Me
The 86: 29 January – 7 February
Cabaret comedienne Dean Arcuri takes his tongue-in-cheek tones and serves them up with a fabulously dark twist. Never afraid to be noticed, what happens when the spotlight shines somewhere else. His band is back and he's joined on stage by some special guests in an evening of comedy cabaret, musical mayhem, attention seeking madness and a few blindfolds.
Pride March
Fitzroy Street, St. Kilda: Sunday 1 February
Celebrating its 20th Anniversary, Melbourne's iconic annual Pride March recognises and celebrates Victoria's gay, lesbian, bisexual, intersex and transgender community – while remembering the road we have already travelled on this journey to equality. Come and join over 100 groups and individuals as we march down Fitzroy Street with all the colour and excitement you have come to expect plus the added flavour of this special anniversary celebration.
Silvertop Ash
Gasworks Arts Park: 21 – 31 January
Hamish is a 17 year old from rural Australia, whose parents don't seem to understand him. The school bully seems to be gunning for him and his best friend Aaron wants more from him than he may be able to give. Silvertop Ash is the story of gay teen suicide and one boy's struggle for acceptance. Written and Directed by Wayne Tunks.
The Art Of Being Still Part Two: The Gathering of Vampires
David Williamson Theatre: 21 January – 14 February
Steven Dawson's ground-breaking The Art Of Being Still first premiered in Australia in 1991, playing to sell-out crowds in Melbourne and Sydney. Now comes the much delayed but highly anticipated sequel as six friends journey further through the plague years, from a world of camp sites, show tunes and saunas to boot-scooting, funny funerals and more. You don't need to have seen the original to come on this powerful journey.
Transgender Seeking
Footscray Community Arts Centre: 27 – 31 January
An exposing, funny and tender look at queer and trans relationships, the bold visions we have and our often hilarious struggles to live up to them. Run-ins with the anti-monogamy police about jealousy, online dating mishaps and figuring out whether to throw out or reinvent mainstream relationship ideals all combine in a smart, fast-paced take on dating in an age of social media and technology.
Twists and Turns
Arts Centre Melbourne: 30 & 31 January
Well known for his Olympic gold medal status (among other assets), Matthew Mitcham brings to the stage the ups and downs of a 'perfect life' in his one man show, Twists and Turns. Despite reaching international prominence, Mitcham was plagued by mental illness, drug abuse and struggles relating to his sexuality.
The 2015 Midsumma Festival runs from Sunday 18 January to Sunday 8 February. For more information, visit: www.midsumma.org.au for details.
Image: Dykes on Bikes at Pride March