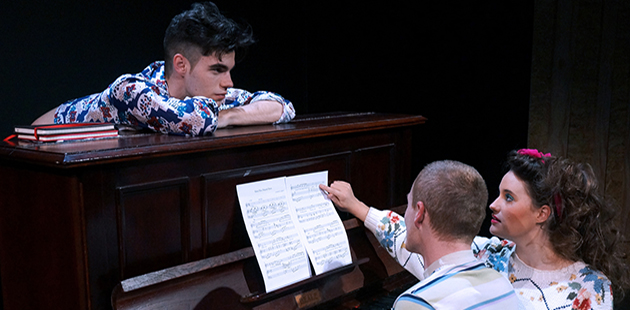 A shameless nostalgic purge bearing witness to a time of love, loss and community, Robert Allan's Through a Beaded Lash plays The Depot Theatre, Marrickville for a limited season from Friday 27 November 2015.
Through a Beaded Lash explores what the drag entertainers of the 1980's and their comrades saw through their beaded lashes as they performed for a community in the grips of the AIDS epidemic.
Oxford Street's 'golden mile' has lost its shine and Adam's gay bookshop has gone bust after 25 years. Not that Adam cares; he made a fortune selling his little shop to a developer. Zoe, Adam's informal business partner, is not so blasé about these turn of events and urges him to use their last day in the shop as a time to reflect on their friendship, which dates back to 1984.
Zoe is not being sentimental when she brings in an old tea-chest unopened for many years, filled with artefacts of their lives back in the 1980's when the AIDS crisis began to take away their friends and eventually their own sense of life. Their old lives emerge from the chest, having remained unopened and unexamined for many years, along with some laughs and a few regrets. Zoe may have found a way back to the land of living, but will Adam?
Directed by Julie Baz and designed by David Jeffrey, Through a Beaded Lash features an ensemble cast of Sydney's emerging and seasoned theatre actors including: Leo Domigan, Ryan Henry, Emily McGowan, Cherilyn Price, Oliver Rynn and Roger Smith.
Robert Allan studied playwriting at Griffin Theatre and NIDA Open, and has a degree in Theatre Studies and Psychology from the University of NSW. His full-length works, An Ordinary Person (2013) and The Complete Package (2011) were produced by Sydney Independent Theatre Company (SITCO) and have been published by the Australian Script Centre.
Through a Beaded Lash
The Depot Theatre, 142 Addison Road, Marrickville
Season: 27 November – 12 December 2015
Bookings: www.thedepottheatre.com
For more information, visit: www.thedepottheatre.com for details.
Image: Ryan Henry in Through a Beaded Lash – photo by David Jeffrey