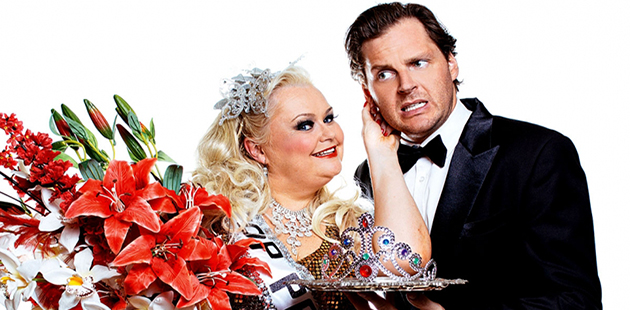 Back by popular demand after their critically acclaimed debut earlier this year, SuperGirly and personal slave Bradley Cooper return to Chapel off Chapel for 3 nights only this October.
Come and see what critics and audiences alike are calling 'the funniest live show I have ever seen' that's 'super fun and super wrong!' Combining amazing vocals, wicked humour, clever writing and leaving no artist out, some of SuperGirly's victims have included Miley Cyrus, Katy Perry, Lady Gaga, Lorde and Britney Spears.
Not for the feint-hearted, SuperGirly takes the mickey out of music in a way that leaves you not only laughing from start to finish, but nodding in agreement and wondering why no one thought of this before.
Lulu McClatchy is SuperGirly, a tour-de-force; with killer vocals, outrageous lyrics and razor sharp wit give pop music the lashing it truly deserves. Joined by Green Room Award-nominated actor and singer, Lyall Brooks, SuperGirly will have you screaming, laughing and wincing all at the same time.
"Make sure there's plenty of swearing, I only hired you for your filth" – Sir Elton John
SuperGirly – Return of the Pop Princess
Chapel Off Chapel, 12 Little Chapel Street, Prahran
Season: 30 October – 1 November 2014
Bookings: (03) 8290 7000 or online at: www.chapeloffchapel.com.au
For more information, visit: www.chapeloffchapel.com.au for details.