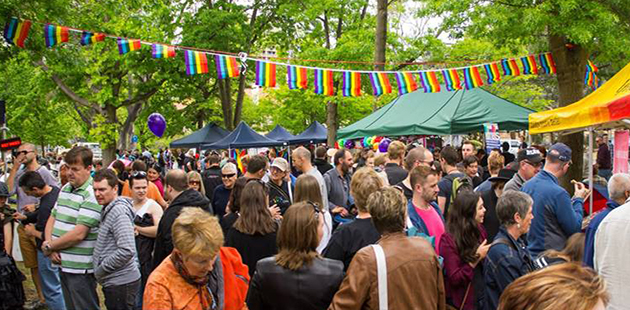 Held annually since 1999, the SpringOUT Festival is Canberra's annual Queer cultural festival held each November, and is a celebration of the vibrancy of the Lesbian, Gay, Bisexual, Transgender and Intersex communities in the nation's capital.
Showcasing more than 20 events in its fifteenth year, this year's program promises the best of the ACT's queer culture. From signature events Fairday and Bushdance, there are sporting activities, dance parties, theatre and visual arts, and opportunities for plenty of community engagement. We take a look at a few events worth checking out:
SpringOUT Fairday
Saturday 1 November: 12.00 – 5.00pm
Held on the lawns of Westlund House – the home to the AIDS Action Council of the ACT, Fairday is a relaxing outdoor event where you can browse wares from local businesses, find out information from community groups and clubs, celebrate with your kids in the family zone, or even enter your pets in the now famous pet parade. Come and celebrate Canberra's LGBTQI community, enjoy a shared lunch on the lawns and kick up your heels to some great entertainment.
La Cage aux Folles
Season: 7 – 22 November
Harvey Fierstein and Jerry Herman's La Cage aux Folles, based on the 1973 French play of the same name, and inspired the 1996 film The Birdcage starring the late Robin Williams. A wickedly funny farce about love and family, the Tony Award winning musical is widely known for its powerful anthem I Am What I Am, and the songs You On My Arm, and The Best of Times.
BAKE
Saturday 8 November: 2.00 – 5.00pm
Deliciously good and heaps of fun, Canberra's LGBTQI Charity bake Off is back! Fabulously delicious food and live entertainment will be available from 2.00pm, with the BAKE Auction starting at 3.00pm. Fund raised will support the AIDS Action Council and A Gender Agenda.
An Alternative Gaze Art Tour
Sunday 9 November: 11.00am
Issues of gender and sexual identity are an intrinsic aspect of every age and culture. Art is often the arena in which such issues are articulated, debated and challenged. In this guided tour, artist and curator Dr David Sequeira highlights a range of LGBTQI themes raised by some of the world's most important artists and art movements.
Scandalous Boy
Season: 14 – 23 November
In Ancient Rome, lust was not a sin. It's 130 AD and the body of a beautiful young man lies lifeless on the banks of the Nile. In his short life he became famous throughout the Roman Empire. In death he will become a god. But who was he? Written and directed by David Atfield, and starring Nicholas Eadie as Hadrian, Scandalous Boy is sexy, funny, moving and unforgettable.
Bushdance
Saturday 15 November: 7.30pm – 1.00am
It's a fun night of dancing with people of all flavours. There is a bar, a BBQ and a live band to lead you through those dances that you might remember from primary school – like Strip the Willow, The Waves of Bondi, those crazy polkas and some more genteel promenades. By the end of the night you'll have danced with everyone, caught up with old friends and have made some new ones. It's a night of singlets, jeans, twirling dresses, chaps, check shirts, rhinestones, akubras, hats and of course, boots.
SpringOUT Photo Marathon
Saturday 22 November: all day
Take 10 photos of 10 themes over 10 hours. The SpringOUT Photo Marathon is designed to work your sense of creativity without causing you to raise a sweat. Registration is a must so please check the SpringOUT Facebook page for details. Great prizes on offer!
From the sublime to the Ridiculous (and everything inbetween!)
Saturday 29 November: 7.30pm
Canberra's Gay and Lesbian Qwire present an evening of engaging repertoire to suit all tastes including Tim Minchin's Canvas Bag, Tom Lehrer's Vatican Rag, Avicii's Hey Brother, and Seasons of Love from Rent, just to name a few. Fresh from the Various Voices Choral Festival in Dublin, the Qwire promises to entertain and dazzle you with their bling and continue to put the Q in choir.
The 2014 SpringOUT Festival runs 1 – 30 November. For more information and complete program, visit: www.springout.com.au for details.
Image: SpringOUT Fairday – photo courtesy of Canberra Pride