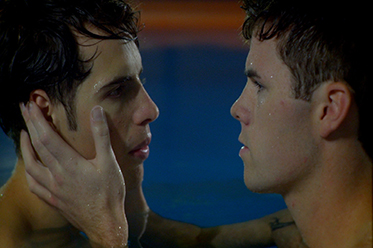 It began in Newcastle in 2012 as a festival to promote the International Day Against Homophobia & Transphobia (IDAHO). In 2014 the festival has exploded across the country, covering 2 states and the nation's capital raising awareness about homophobia and transphobia.
This year's line-up is exceptional and you don't want to miss this wonderful celebration of sexual and gender diversity in the festival's hometown of Newcastle, as well as Canberra, Coffs Harbour, the Gold Coast and Penrith. A whole month of the best queer cinema from around the world to make you cry, cackle and cringe, the films include:
52 Tuesdays
Screening: Penrith, Newcastle, Coffs Harbour, and Gold Coast.
16-year-old Billie's reluctant path to independence is accelerated when her mother reveals plans for gender transition and their time together becomes limited to Tuesday afternoons. Filmed over the course of a year, once a week, every week – only on Tuesdays – these unique filmmaking rules bring a rare authenticity to this emotionally charged story of desire, responsibility and transformation.
Bridegroom
Screening: All Locations
A documentary that tells the emotional journey of Shane and Tom, two young men in a loving and committed relationship — a relationship that was cut tragically short by a misstep off the side of a roof. The story of what happened after this accidental death– of how people without the legal protections of marriage can find themselves completely shut out and ostracized– is poignant, enraging and opens a window onto the issue of marriage equality like no speech or lecture ever will.
I Am Divine
Screening: All Locations
A definitive biographical portrait of Harris Glenn Milstead, a.k.a. Divine, and honors him in just the way he always craved — as a serious artist and immortal star. Divine's entire story is told, from his early days as a misfit youth in Baltimore through his rise to infamy as a cult superstar. Like the characters he portrayed in numerous films, Divine was the ultimate outsider.
Monster Pies
Screening: All Locations
1996 Western Melbourne and gay feelings are something to be buried deep if you want to survive high school. Mike has felt alienated and alone for as long as he can remember, until a new boy arrives at his school, awakening feelings and a world of possibilities he'd never before dared to dream of. More than just a coming-of-age story, the film explores relationships and imperfect families, the loneliness of having to hide and the delight and danger of allowing another person into your secret life.
Reaching for the Moon
Screening: All Locations
Based on the true love story, frustrated poet Elizabeth Bishop travels to Brazil and encounters the beguiling architect Lota de Macedo Soares. Initial hostilities make way for a complicated yet long-lasting love affair that dramatically alters Bishop's relationship to the world around her.
The shOUT! Film Festival is presented throughout May. For more information including dates, screening times and bookings, visit: www.shoutfilmfestival.com for details.
Image: Monster Pies