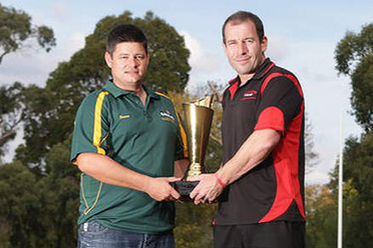 In a match that is set to establish a new precedent for inclusion in sport for the lesbian, gay, transgender, bisexual and intersex (LGBTI) communities, rival football teams Yarra Glen and Yarra Junction will unite to celebrate inclusion and diversity in the inaugural Pride Cup.
Yarra Glen is the team of openly gay footballer Jason Ball, who came out publicly two years ago to highlight the mental health impact homophobia has both on and off the sporting field. His 'coming out' was met with strong support from his teammates and challenged the AFL to address homophobia at all levels of the game.
The AFL, which has implemented several policies and programs to tackle homophobia, is supporting the Pride Cup by hosting a pre-match luncheon to discuss diversity in sport, which will be attended by leaders from various sporting, human rights, mental health and LGBTI organisations.
Highlighting the leagues commitment to tackling homophobia and with the support of The Yarra Ranges Council, the Yarra Glen football oval will feature rainbows at the 50m lines at each end of the ground.
The inaugural Pride Cup will take place on Saturday 3 May at the Yarra Glen Football Ground, commencing at 2.10pm.
Image: Coaches Simon Caldwell (Yarra Junction) and Dean de Munk (Yarra Glen) with the Pride Cup – photo by Wayne Taylor (courtesy of Yarra Glen Football Club)