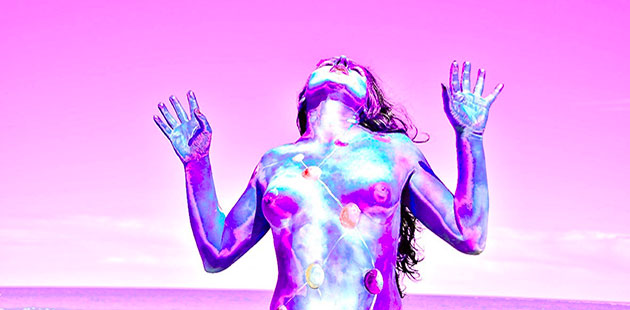 The sixth edition of Liveworks' beloved queer performance and party extravaganza, Day for Night is set to take audiences on an epic journey through queer space and time at Carriageworks on Saturday 26 October 2019.
As day becomes night, a series of newly commissioned performances and exquisite installations see some of Australia's brightest and best queer artists reinvent and re-figure their work for the glittering unfurling of Sydney's hottest queer art party.
"Day for Night offers an expansive view into what queer practice can be," says Performance Space's CEO and Artistic Director, Jeff Khan. "It is a unique offering within the wider arts landscape that provides a platform for diverse voices and practices to be celebrated."
Day for Night's queer art extravaganza commences with a dreamy synth soundscape featuring Ngaiire, Nick Wales, Alyx Dennison, Stereogamous & Inner West Voices. Immerse yourself in a surround-sound composition by Nina Buchanan: lie down and surrender to an intuitive, contemplative and deeply grounded experience of queerness.
Step inside an immersive live photo shoot and witness Jermaine Dean's participatory process unfold in real time as dreamy imagery is created in a makeshift set. Gain insight into the collaborative photographic process using artists, audience, props and the party itself, through a fantastical lens of pixellation, distortion and manipulation.
Maori and Pacific perspectives are brought into the queer cosmology in this series of performances by Th3 Order that blends movement, music, comedy and drag for a spectacular celebration of bodies at the edge, or witness a range of performance vignettes that combine autobiographical performance with epic vocals as Zaya Barroso shares her experiences of resilience against trans haters and those who exploit power.
Soft Core Bondage Fairies seeks to create disruption and recombination. Through soft-core bondage and breakage, the connective-plasma-faeries encourage gift-giving and break up often stifled social spaces – creating new social scenarios by physically tying people together, or initiating shared activities of platonic intimacy.
Share your thoughts, fears and fantasies about masculinity before these recorded conversations are transformed into a killer live music performance by GIRL, and Sydney sonic sweethearts, Stereogamous, bring the love to the dance floor as they turn out fresh scores by day and colourful tracks by night.
Day for Night takes place today (Saturday 26 October) at Sydney's Carriageworks. For more information, and full program, visit: www.performancespace.com.au for details.
Image: Zaya Barroso – courtesy of the artist