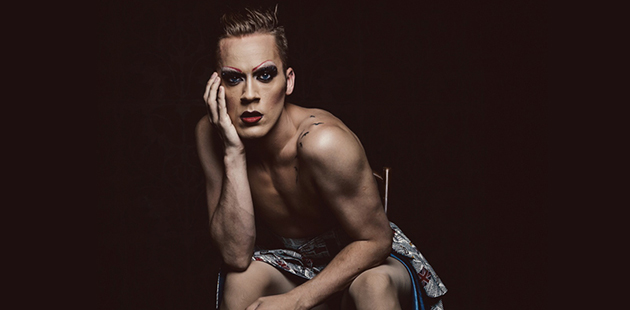 In what has fast become a Perth summer institution, the Fringe World Festival kicks off this weekend offering Westralians the opportunity to make the most of the balmy summer nights and enjoy an incredible array of more than 750 events and almost 130 venues to explore in every corner of the city. The Australian Pride Network takes a look at 12 events worth checking out:
Betty Grumble Love & Anger (or Sex Clown Saves the World AGAIN!)
Fringe Central: 5 – 11 February
This is an ongoing Womanifesto, call to arms, protest party and long hard kiss from Surreal Showgurl, Obscene Beauty Queen and Sex Clown – Betty Grumble. The award-winning, head-spinning Betty Grumble brings the premiere of her new work to Perth. Witness her ecosexually charged flesh riot ritual of dancing dissent, disco and deep push back-ery. Where pleasure is a radical act and the body a bloody love letter.
Bodymap
The Pleasure Garden: 11 – 17 February
Is the road to self discovery still on the map? Navigating who we are has never been tougher. Access is blocked with the promise of beauty & perfection. The personal highway to our soul is in multilane gridlock, diversions from the self at every exit. Glitta Supernova brings an intimate fleshy foray through the parallel universes of 90s club culture performative theatre. Red light surrealism bridging intimacy objectification, in a sixty minute physical freeway that won't be tarred for convenience. Satirical, Personal Political storytelling packed to the rafters with puns, pussy possibilities. Experience the iconoclastic visionary of Tits Art.
Briefs: Close Encounters
The Pleasure Garden: 7 – 25 February
The world's hottest all-male boylesque group are back! Having glitter-bombed the globe as we know it with their iconic and hilarious brand of circus, drag, burlesque and comedy, the Briefs boys are now ready to explore the third dimension. With their trademark skill and humour they test the limits of masculinity, taste and decency. Expect interstellar aerials, incredible artistry, and warped speed strippers from outer space. Prepare yourselves for a close encounter with the Briefs boys.
Club Swizzle
The Ice Cream Factory: 25 January – 25 February
After three sell-out seasons, the creators of La Soiree return to Perth with a brand new show. Loose, glorious and irresistibly fun, Club Swizzle is a night of sassy entertainment where the mayhem gets kicked up a notch. The cheekiest souls in showbiz gather on, in and around the bar where legends are made and good times abound. It's a melee of outrageous cabaret, air-defying acrobatics and infectious musical revelry, backed by a band with a repertoire as big as its bar tab.
Djuki Mala
The Pleasure Garden: 28 January – 25 February
Djuki Mala return to Perth on the back of their 2017 Summer Festival, Sydney Opera House and Edinburgh Fringe sell-out seasons! Unique, infectious, high-energy exuberant, fusing traditional Yolngu, pop culture, dance storytelling to create work that is a marvel of timing, comedy & clowning, with a hefty dose of heart soul! If there is one show that is guaranteed to leave you feeling genuinely happy then this is it!
Elixir
The Pleasure Garden: 13 – 25 February
The smash hit of 2017 returns bigger and better! Elixir is circus with a difference! Uninhibited by cliche or expectation, subversive and hilarious, the story follows three enthusiastic and acrobatic scientists who attempt to create the elixir of life. Elixir returns to Fringe World after being redirected and re-created for a spiegeltent audience by award-winning UK director John Walton. The boys are back with their incredible acrobatics and tongue in cheek humour, combined with sweaty muscles and smiling faces.
Hannah Gadsby – Nanette
Heath Ledger Theatre: 27 & 28 January
Beloved Australian comedian, Hannah Gadsby is bringing her award-winning and self-described swansong Nanette back to Perth. Nanette, Hannah's masterpiece, saw the comedian complete an unheard of comedy trifecta, taking home Australia's most prestigious comedy award 'The Barry' for Best Show at last year's Melbourne International Comedy Festival; followed by the Helpmann Award for Best Comedy Performer; and finally the world's biggest prize for live comedy, the Best Comedy Show award at the Edinburgh Festival Fringe. One of Australia's most applauded and beloved comedians, don't miss your chance to be spellbound by the inner workings of Hannah's unique mind while you can.
Hot Brown Honey
The Pleasure Garden: 8 – 25 February
Unapologetically fierce, defiantly shattering preconceptions in an explosion of colour, culture and controversy – fighting the Power never tasted so sweet. Hot Brown Honey turns up the heat with lashings of sass and a hot pinch of empowerment in the smash-hit, genre defying, firecracker of a show that's taken the world by storm. Steeped in the Word of The Mother and packing a punch of Hip Hop politics, Hot Brown Honey will make you laugh until you cry, clap until your hands bleed, dance in the aisles and shake every part of what your mama gave you.
Iconic – A Brief History of Drag
The Pleasure Garden: 16 – 25 February
Direct from a sold out run in the UK, join the sensational Velma Celli on a passionate pilgrimage through the most iconic drag moments of film, stage and popular culture. An electrifying cabaret comprising a collective mix of the music that we all know and love. Velma's flawless vocals will have you crying with laughter to broken-hearted at the drop of a very stylish hat. So fasten your seat belts as this roller coaster of a cabaret really hits every spot!
Livvy & Pete: The Songs of Olivia Newton John and Peter Allen
The Pleasure Garden: 5 – 12 February
Helpmann award-winner Michael Griffiths and cabaret darling Amelia Ryan celebrate the songbooks of Aussie icons Olivia Newton-John and Peter Allen. From their humble small-town beginnings to world domination in sequins and jumpsuits, revisit all of their sing-a-long classics from Rio to Tenterfield, all the way to Xanadu and beyond.
Wank Bank Masterclass
The Pleasure Garden: 27 January – 10 February
Winner of the Best Interactive Show at the 2017 Adelaide Fringe 2017, Adam Seymour (AKA Rural Ranga) is an Australian artist who created an art book from his happy ending massages in New York City. Now he brings you an informative, interactive and playful masterclass of original techniques to perfect the art of handling your partner's member (or even your own). Enjoy waves of adolescent laughter and be prepared to end up in a hilarious circle jerk with carrots and cucumbers.
Zoe Coombs Marr 
The Ice Cream Factory: 7 – 11 February
Zoe has been on hiatus. Sort of. For the past 6 years, she's been a terrible male comedian with a neckbeard called Dave, winning stacks of awards and tons of great reviews. Whatever. Now, she's scraped off the neckbeard and is BAAAAACK… as herself!
The 2018 Fringe World Festival runs 26 January to 25 February. For more information, visit: www.fringeworld.com.au for details.
Image:  Iconic – A Brief History of Drag (supplied)