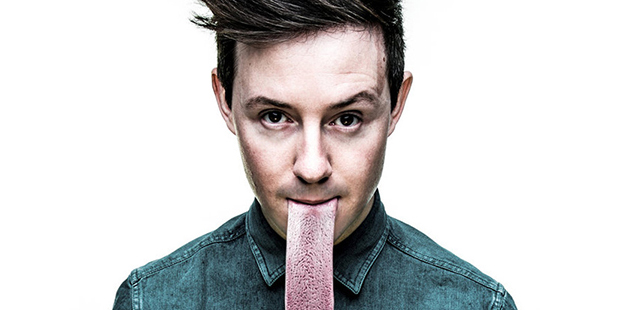 Now in its 30th year, the 2016 Melbourne International Comedy Festival has kicked off with a program that includes more than 500 shows taking place in 121 venues and featuring over 2,000 performers. With so much on offer, Australian Pride Network takes a look at 10 shows that have a queer bent and are worth checking out:
Penny Arcade – Longing Lasts Longer
The Famous Spiegeltent – Arts Centre Melbourne: continues to 3 April
Last seen in Australia with her internationally acclaimed sex and censorship show Bitch! Dyke! Faghag! Whore! – New York's undisputed queen of underground turns contemporary stand-up on its head. Driven by her magnetic rock 'n' roll energy, Arcade's razor sharp satire is mixed live to euphoric soundscapes charting four decades of pop culture. A passionate and exuberant performance anthem where you can think, laugh and dance and at the same time!
Gillian Cosgriff – To The Moon And Back
The Butterfly Club: continues to 3 April
Gillian has concerns about the future. Instead of seeing dazzling new horizons and exciting possibilities, all she can think about is the impending doom of the probable apocalypse. Garnering accolades for the last five years with her charming and unique style of musical comedy, see Gillian now, before the world inevitably ends.

Dolly Diamond – Alive, Intimate & Up Late
Old Met Shop – Melbourne Town Hall: continues to 16 April
Dolly's completely in her element when she's up late and intimate, that's when she really comes alive. Back for her second year, audiences are in for one hell of a ride. A night of comedy and cabaret and an array of special guests. She's live and she means business, funny business. Dolly Diamond is one sharp-tongued comedy goddess!
Hannah Gadsby – Dogmatic
Beyond – ACMI: continues to 17 April
Hannah Gadsby is a storyteller par excellence with a joke rate that most dads at a family BBQ would envy. In Dogmatic, she will attempt to explain the thought processes and woeful life choices that have led her to where she is today. You will laugh. She will remain baffled!
Thomas Jaspers is a Kitten Killer
Parthenon – Greek Centre: continues to 17 April
Thomas Jaspers always thought that the silver lining to being a 29-year-old single man with no ovaries in sight was that he didn't have to weigh in on sensitive topics like abortion. That was until the love of is life Beryl got knocked up by the feral Persian down the road. Every woman has the right to chose, but what if she can only meow? Join Thomas on a camp-romp through decision making processes that he is completely unequipped for.
Geraldine Quinn – Could You Repeat That?
Bagging Room – The Coopers Malthouse: continues to 3 April
In 2006, Geraldine Quinn performed her first full original cabaret. Ten years on, 30 award nominations, seven wins and two Moosehead Awards later – the rock ponce gypsy returns for a sparkling decade retrospective, resurrecting her greatest song-zombies. A jamboree of Quinnsong – many of which will at last be played with a living band of talented, affordable musicians.
Adam Richard – Splitsecondism
Imperial Hotel: 5 – 17 April
The allegedly fabulous Adam Richard (Spicks and Specks, Outland) returns to Melbourne with an all-new hour of comedy, and some incredibly useless facts. A show about bludgers, beavers and badly translated tattoos.
TWINS
Playhouse – Arts Centre Melbourne: 7 – 17 April
Rhonda Burchmore and Trevor Ashley are legends in their own lunchtime. Between them they've sung every song ever written and consumed enough French champagne to sink a battleship. Usually solo superstars, they've decided to join forces for this once in a lifetime event. Bold, brassy and loud… racy, raunchy and raucous… Trash and Ruda will have you laughing and screaming for more. More? More is never enough with these icons of outrageous glitz and glamour.
Nath Valvo – Tongue in Cheek
Portico Room – Melbourne Town Hall: continues to 17 April
Just back from a season at London's Soho Theatre, Tongue in Cheek is Nath's new hour of comedy, having its Melbourne premiere at this year's Melbourne International Comedy Festival. Now, he takes on everything from his dysfunctional family to foodies from '90s suburbia to gym junkies and Tinder.
VELVET
The Coopers Malthouse: continues to 17 April
After dazzling audiences around the globe, VELVET arrives in Melbourne, continuing to defy expectations with an electrifying trip to a world of glamour and abandon. A raucous and seductive fusion of disco, dance, burlesque and circus, it shocks, surprises and scintillates at every turn. Channeling the original Studio 54 nightclub, and featuring the legendary diva Marcia Hines, it's a party, it's dangerous, it's a showcase fuelled by an exhilarating disco soundtrack that never lets up!
The 2016 Melbourne International Comedy Festival runs until 17 April. For more information, visit: www.comedyfestival.com.au for details.
Image: Nath Valvo (supplied)