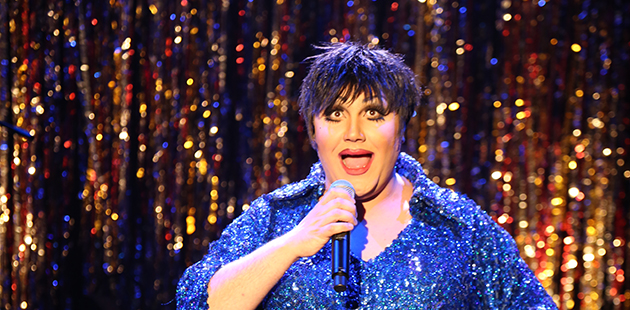 While it may have been near impossible to navigate through, and indeed attend all of the events in the 2016 Midsumma Festival program, this festival heralded a transition in drag cabaret. This genre has exploded in recent years, and as a result has gained a wider acceptance in the community than ever before.
Admittedly this year's Midsumma Festival lacked the worldwide sensation Conchita Wurst who won the Eurovision song contest in 2014 with her hit song Rise like a Phoenix.  The Austrian bearded sweetheart featured in the 2015 Feast Festival in Adelaide, and will soon grace our shores again as part of the 2016 Sydney Mardi Gras program.
This omission aside, Midsumma did however secure perhaps Australia's most iconic and historically important drag cabaret artist, Carlotta. She announced during her opening night show at Fortyfivedownstairs that this was 'probably' the last performance she will ever perform in Melbourne.  At the age of 72 she expressed her delight to how far this genre of entertainment has gone in both quality and acceptance in Australia, and it looks as though the future is in good hands.
Leading this charge in Melbourne is one of Midsumma's most well-known identities, and rightfully so, Dolly Diamond (Michael Dalton). Most in the field would do well to take a few lessons from Dolly in her ability to self-market and I am not sure how anyone can wait at a tram stop anymore in Melbourne without her and her 'glam stop' coming to mind.  She has indeed won the respect of the community, winning the 'Artist of the Year' at the 2014 GLOBE awards, and will continue to wow audiences in her Clocktower Cabaret performances on 6 – 7 February at the Clocktower Theatre.
Kaye Sera (Darren Pope), another iconic personality in the Melbourne scene, brought to Midsumma a new show, Sex, Drag and Rock 'n' Roll as part of the Word is Out program running in parallel with Midsumma at Hares & Hyenas.  Kaye had her audience in hysterics to renditions of rock songs including Bad to the Bone (George Thorogood and the Destroyers) and Walk on the Wild Side (Lou Reed) in a cabaret style and disturbingly brilliant re-wordings only possible by Kaye, with a touching and rousing finale that had everyone singing along to David Bowie's Starman.
Mama Alto (Benny Dimas), a notable omission from the 2016 Midsumma line up – is worth mentioning based on her recent success in October 2015 as part of Finucane & Smith's Glory Box show that travelled to Cuba as the first Australian company to take part in the Havana International Theatre Festival. She will however grace our stages again at Hares & Hyenas with her Anti-Valentine Show on 13 February – is certainly a talent worth keeping an eye on.
The drag cabaret highlight of the Midsumma program without a doubt was Trevor Ashley's portrayal of Liza Minnelli in his new show Liza's Back! (is broken) which is currently showing at Arts Centre Melbourne until 31 January. Liza's back may have been broken (or perhaps just a bit sore), but Ashley didn't break any promises in presenting an entertaining show.
The show consisted of Liza Minnelli reflecting upon musicals that she 'turned down' and could have added her 'pizzazz'. This resulted in a series of hilarious (and at times quite unpredictable) classic musical renditions that were only possible with the help of the flawless band and musical arrangements and concepts by Max Lambert, and musical direction by Andy Davies.
Although hearing renditions from musicals such as The Sound of Music and Sunset Boulevard were quite entertaining, it was the more unlikely and lively versions of songs such as Do You Hear The People Sing (Les Misérables), Memory (Cats) and Send in the Clowns (A Little Night Music) that made the performance memorable.
While some of the jokes and Liza's channelling of "Mama" may have missed the mark (remember this is drag cabaret), the constant barrage of humour and 'Minnelli-isms' kept the audience laughing and cheering, and those wishing to hear Ashely belt out Minnelli classics will not be disappointed.
Indeed the future of drag cabaret is promising, and most certainly, the bar has been raised!
Liza's Back! (is broken)
Fairfax Studio – Arts Centre Melbourne, 100 St. Kilda Road, Melbourne
Performance: Thursday 21 January 2016 – 8.00pm
Season continues to 31 January 2016
Bookings: 1300 182 183 or online at: www.artscentremelbourne.com.au
For more information, visit: www.artscentremelbourne.com.au for details.
Image: Trevor Ashley in Liza's Back! (is broken) – photo by Jeremy Vincent
Review: Jimmy Twin