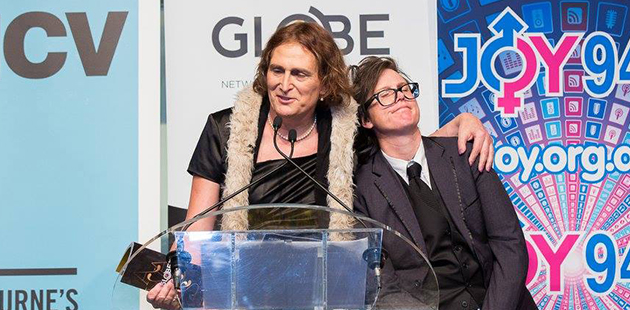 Nominations have officially opened for the 2016 GLOBE Community Awards, Victoria's only recognition of excellence in the gay, lesbian, bisexual, transgender and the intersex (GLBTI) community.
Created by GLOBE, the awards recognize inspiring work within the GLBTI community and recognize individuals and organisations for their tireless work for the advancement of GLBTI causes.
Winners of the awards will join an exceptional alumni of award winners including: Human Rights Lawyer Anna Brown; Transgender Rights Advocate, Sally Goldner: Australia's first openly gay Aussie Rules Footballer, Jason Ball; and iconic Melbourne Cabaret Performer, Dolly Diamond.
Gender and Sexuality Commissioner Ro Allen is proud that the Victorian Government is supporting the awards: "The GLOBE Community Awards represent an opportunity to lift our community up, celebrate our success and come together in a way that builds the GLBTI voice in Victoria to reach out further." says Commissioner Allen.
"The awards are becoming an essential mainstay on the Victorian event calendar. I encourage anyone who has seen demonstrations of great courage, dedication and leadership in our LGBTI communities to nominate that person, so that they may know how appreciated they are by all of us." adds Commissioner Allen.
In 2016, awards are being presented in the following categories:
A healthy community 
Connecting the GLBTI community 
ANZ Excellence in business 
Protecting our community 
Media excellence 
Artist of the year 
Straight ally of the year 
Volunteer of the year 
John Marriott Sports person of the year 
People's Choice Award 
Victorian GLBTI Person of the Year 
GLOBE President, David Micallef said he is looking forward to another year of strong nominations: "We are expecting another round of stellar nominations from across Victoria's LGBTI community," he said. "Don't hesitate to be the person who makes that move, please nominate!"
Nominations are now open, and close at midnight on Sunday 28 August 2016. The winners will be announced at the GLOBE Community Awards Gala Dinner on Friday 21 October 2016 at Myer Mural Hall. For more information, visit: www.awards.globemelbourne.com.au for details.
Image: 2015 GLOBE Award Winner, Sally Goldner (Victorian GLBTI Person of the Year) with Hannah Gadsby – photo by Amplify Event Photography