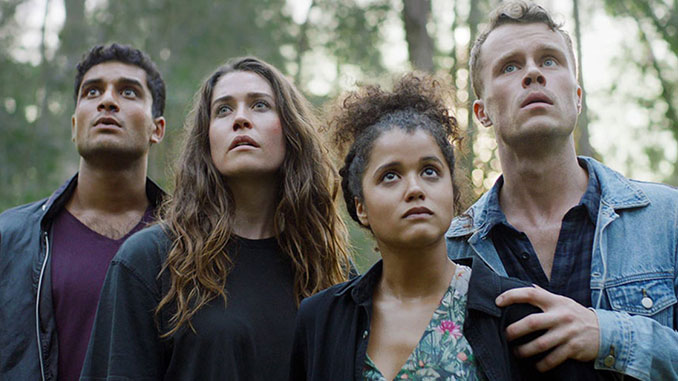 Melbourne's LGBTIQ+ communities will have a chance to get together again, safely, when Melbourne Queer Film Festival takes over Melbourne cinemas and the Coburg Drive-In for MQFF Together this March.
MQFF Program Director Spiro Economopoulos says the MQFF Together program features stories in every genre and touching every part of our communities. "Whether you're looking for a queer angle on a love story, want to see people who are just like you or want to explore the lives of other queer communities both here or overseas you will find stories at MQFF Together," said Spiro.
The impacts of COVID-19, however, have not dampened the richness of queer stories with 64 films from all parts of the lesbian, gay, bisexual, transgender, intersex and queer communities being featured throughout the festival. The Australian Pride Network takes a look at ten (10) films screening throughout the festival.
Dating Amber
Village Coburg Drive-In: Thursday 11 March 2021 – OPENING NIGHT
In Ireland during the mid-90s, high school students Eddie (Fionn O'Shea) and Amber (Lola Pettigrew) decide to stage a relationship in order to stop everyone speculating about their sexuality and essentially become each other's 'beards'. Eddie is keen to follow his dad into the military, while Amber dreams of moving away to the more progressive London. During a life-changing night at a gay bar their 'ideal' arrangement begins to fall apart, forcing Eddie deeper into denial, while Amber begins to embrace her sexuality and realises that a perilous future awaits her best friend unless she intervenes. The opening night will also feature the premier screening of Australian short How to be Queer – funded through MQFF's Pitch Pleez! film competition.
My First Summer
In rural Australia, the mother of 16-year old Claudia (Markella Kavenagh) suddenly disappears, leaving her completely isolated and bereft. Sometime later, fellow teenager Grace (Maiah Stewardson) comes to find Claudia frightened and living alone in a secluded house. Irrespective of their diverse childhoods, the two girls form a deep connection in the midst of familial dysfunction and a police investigation. Katie Found's feature debut gently draws its audience in, creating an immersive and playful experience of first love. The two leads, Kavenagh and Stewardson, deliver complex and compelling performances of troubled girlhood, one that is both jubilant and tender. Reminiscent of the Brontë sisters, the film narrates a gothic romance within a contemporary framework of young love. Haunting and poetic, My First Summer traces an enchanting study of trauma, grief and sexuality.

Rurangi
After tragedy forces him to question his identity and his past, Caz (played wonderfully by Māori, trans-masc actor, Elz Carrad) returns to his rural hometown Rūrangi where he finds his new life as a trans activist in Auckland starkly different to the dairy farming community he left 10 years earlier. Along with this struggle, his estranged father Gerald is unable to connect with his son and the new life that does not include him. Caz finds life in the sleepy town has changed as tensions are brewing between the locals over environmental matters. Caz's high school best friend Anahera (Āwhina Rose Henare Ashby) and ex-boyfriend Jem (Arlo Green) are faced with their own questions surrounding identity as Caz re-enters their world and forces them to break out of old routines.
Steelers: The World's First Gay Rugby Club
When journalist Eammon Ashton-Atkinson fled Australia and moved to London to escape depression – a struggle exacerbated by his battle with his sexuality and a traumatic outing during high school – he found his salvation in the Kings Cross Steelers. Formed in 1995, the Steelers were one of the first gay rugby clubs in London. More than that, this club became a sanctuary of sorts for the disparate group of gay men from all around the world, finding a home to excel in a game they love and to celebrate their sexuality. Directed by Ashton-Atkinson, this inspiring and emotional documentary takes an intimate look into the lives of the various team members (including their fierce lesbian club director) as they grapple with their own demons, overcome adversary and do a little drag, all the while competing for the Bingham World Cup in Amsterdam. This is a heartwarming story about finding your tribe and the protective shield of a gay rugby scrum.

Summer 85
When 16-year-old Alexis capsizes off the coast of Normandy, 18-year-old David heroically saves him. This chance encounter will change their lives irrevocably as the naive Alexis experiences the dizzying and intoxicating pull of first love and the more experienced David finds a willing partner in crime to test the boundaries of his devotion and desires. Queer auteur François Ozon returns in top form with one of his more explicitly gay films in quite some time. Based on a novel by English author Aidan Chambers and seamlessly relocated to the gorgeous Normandy coastlines, Summer 85 perfectly captures the agonising and ecstatic rush of young love, soundtracked no less to some of the more iconic pop bangers of the 80s.
Supernova
Sam (Colin Firth) and Tusker (Stanley Tucci) have spent 20 years together, and they are as passionately in love as they have ever been. But in the two years since Tusker was diagnosed with early-onset dementia, their lives have had to change. As Tusker's condition has progressed, Sam has been forced to place his career on hold and become his partner's full-time carer, their time together has become the most important aspect of their lives, and every moment they now share has a weight it once did not. So, they plan a road trip while Tusker is still able to travel, to reconnect with friends and family and visit the places of their past. Directed with understatement, warmth and compassion by Harry Macqueen, Stanley Tucci and Colin Firth give stellar performances in this heartrending modern love story about a couple struggling with irreversible illness and the inevitable loss of a life partner.
The Greenhouse
Where are we when we remember? The past, the present or somewhere in-between? The philosophical underpinnings of The Greenhouse take its viewers on a journey of time travel, fusing fantasy with domestic drama. In this story of loss, Beth and her three adopted siblings assemble at their rural childhood home after the tragic passing of their lesbian mother. As with many family events, the weekend is rife with conflict, hostility and implicit tension, while Lauren, an old flame from the past, shows up to destabilise Beth's world further. Meanwhile, danger looms as Beth discovers a mysterious dimension to the past. The film's phantasmagorical qualities allow the viewer access to Beth's disorientating internal world – an unstable reality ruled by unresolved grief and memory, and a past that threatens to engulf the present. Thomas Wilson-White's feature debut, The Greenhouse, is part magic, part metaphor, reminding its audience of the seductive nature of memory and the danger of spending too much time there.
The Man with the Answers
Ex champion diver Victor (Vasilis Magouliotis), works in a mundane job repairing furniture while living with his grandmother in a small Greek coastal town. Following her death, he decides to dust off her car and head to Germany to reconnect with his distant mother. On the ferry over to Italy, he meets the handsome Mattias (Anton Weil), a chatty German drifter on his way home. Victor reluctantly agrees to give Mattias a lift and the two begin their winding ride north through the Italian countryside. Despite their clashing personalities, the two men begin to find an emotional connection with one another in this delightful and visually striking romance. Written and directed by Greek filmmaker Stelios Kammitsis, this charming gay film features grounded performances from its two leads and gorgeous landscapes lensed by cinematographer Thodoros Mihopoulos.
Why Did She Have to Tell the World
Phillip Island residents Phyllis Papps and Francesca Curtis were the first lesbian couple to 'come out' on Australian television in 1970. This documentary short by Abbie Pobjoy (Backing Up Bilitis, MQFF, 2020) combines archival footage and interviews from the time with the couple's reflections on 50 years' worth of love and protests. The shadow of the 2017 gay marriage plebiscite looms over their musings, and their viewpoints offer a new and sometimes overlooked perspective on the debate. The repercussions from their interview on This Day Tonight in 1970 impacted both their personal and professional lives, which led to a lasting desire to bring change to Australian society, as well as an iconic and enduring relationship. Phyllis and Francesca are lesbian trailblazers who have been making waves for over 50 years. Pobjoy's tender portrait of the brave and bold couple pays tribute to their lifelong romance and activism and shines a light on the reality of being an 'out' lesbian in the 1970s in Australia.

Breaking Fast
Village Coburg Drive-In: Saturday 20 March 2021 – CLOSING NIGHT
Breaking Fast begins with an abrupt breakup when Mo's boyfriend, Hassan, reveals his plans to marry a woman to appease his conservative Muslim family. A year goes by and Mo, heartbroken and dejected, is still mourning the lost relationship. Wallowing in his own mundanity, Mo spends his evenings eating alone and leaving lengthy voicemails for his grandmother. That is, until he attends his best friend's extravagant 25th birthday party, where Mo is introduced to the absurdly handsome aspiring actor, Kal. It turns out that Kal speaks fluent Arabic, a consequence of having spent his childhood in a military base in Jordan. Forming a close bond in the midst of Ramadan, Mo and Kal share iftar – an evening meal to break daytime fasting – together almost every night. Sexual tension grows as Mo, a devoted practising Muslim, must refrain from impure thoughts  and physical touch during the holy month. The closing night will screen with the premier screen of Australian short A Big Life also funded through MQFF.
---
MQFF Together screens from Thursday 11 March to Sunday 21 March 2021 at Village Cinemas Jam Factory, Cinema Nova and the Village Cinemas Coburg Drive-In. For more information and full program, visit: www.mqff.com.au for details.
Image: The Greenhouse (supplied)