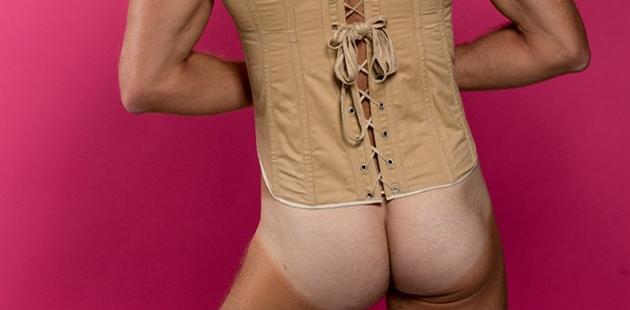 After presenting the Australian premiere a decade ago, New Theatre is thrilled to be reviving Mother Clap's Molly House, a riotous gay romp of a musical play, bursting with outrageous characters, bawdy songs and handsome men, as part of Mardi Gras until 7 March.
Based on an essay in the book of the same name by Rictor Norton, Mother Clap's Molly House is a play by acclaimed British playwright Mark Ravenhill (Shopping and Fucking) with music by Matthew Scott. It was first performed in September 2001 at the National Theatre's Lyttelton Theatre, London.
It's London, 1726, and Mrs Tull is struggling to save her frock-hire business. She hits on a plan to open a molly house – a brothel where the 'girls' are boys in drag – and soon business is booming! Meanwhile, in a trendy 21st century Bloomsbury loft, a gay relationship is disintegrating amidst the drugs and toys of a sex party.
Shifting deftly between time periods, Ravenhill has created a subversive and astringent satire that celebrates the diversity of human sexuality and explores our emotional need to form families whilst simultaneously slamming the commodification of sex.
Mark Ravenhill is one of the most distinctive contemporary UK playwrights. He burst on to the theatre scene in 1996 with the huge hit Shopping and Fucking. He has continued to garner critical acclaim for plays that include Faust Is Dead (1997), Some Explicit Polaroids (1999), Pool [No Water] (2006), Shoot/Get Treasure/Repeat (2008), Over There (2009), The Experiment (2009), and Ten Plagues (2011).
"Wonderfully exuberant … celebrates Sodom like there's no Gomorrah" – The Guardian
Director: Louise Fischer  Cast: Debra Bryan, Bradley Bulger, Stephanie Begg, Steve Corner, Andrew Grogan, Michael Harrs, Patrick Howard, Deborah Jones, Chantel Leseberg, Tess Marshall, Thomas Pidd, Garth Saville, Dave Todd
Movement Director: Trent Kidd  Set Designer: Bethany Sheehan  Costume Designer: Famke Visser  Sound Designer: Tegan Nicholls  Lighting Designer: Andrew Weston  Production Manager/Stage Manager: Rosane McNamara
Mother Clap's Molly House
New Theatre, 542 King Street, Newtown
Season: 13 February – 7 March 2015
Bookings: www.newtheatre.org.au
For more information, visit: www.newtheatre.org.au for details.
Image: courtesy of New Theatre