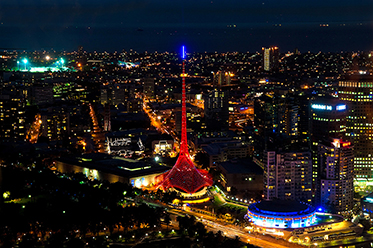 Stars of sport, stage and screen will join retailers and community organisations to entertain and inform with a cultural program of more than 160 events for the 20th International AIDS Conference (AIDS 2014) – the largest health conference ever hosted in Australia.
Lord Mayor Robert Doyle was joined by AIDS 2014 Co-Chair Professor Sharon Lewin and Tom Harley, President, Victorian Arts Centre Trust in launching the program on Thursday 12 June.
Held between 20 and 25 July, AIDS 2014 will bring 14,000 participants from 200 countries to Melbourne, with 1000 journalists, scientists and leaders from around the world in attendance.
Lord Mayor Robert Doyle said that he was proud Melbourne would host the largest cultural program ever staged for an AIDS conference.
"We are the cultural and sporting capital of Australia and Melbourne is set to make a powerful statement, a statement that unites our city," the Lord Mayor said.
"In a spectacular show of support, 45 of the city's most prominent buildings will be flood lit red at night, including Arts Centre Melbourne, Parliament House, Melbourne Town Hall and the Melbourne Star Observation Wheel."
"Our city is well known for being one of the most open, tolerant and welcoming places in the world. We want to show our visitors that wherever they go in Melbourne, we are painting the town red in their honour."
More than 90 different cultural, retail, business, arts and sporting organisations are participating partners in the cultural program that will inform, entertain and inspire both visitors and locals.
AIDS 2014 Co-Chair, Professor Lewin said participants would be guaranteed a 'once in a lifetime opportunity in Melbourne.
"As a Melburnian, I am thrilled with the way the City has embraced AIDS 2014. The range of activities in the Cultural Program is truly amazing and a testament to how welcoming and inclusive Melbourne is."
"I encourage the general public to enjoy AIDS 2014, to visit the Global Village, to attend an event within the cultural program, and to work with us to end HIV."
Melbourne Storm Rugby League Club is one of the iconic Melbourne sporting teams supporting the event. At their home game against Canberra Raiders on Saturday 19 July at AAMI Park the players will wear red socks, the numbers on the field will be in red, while AAMI Park will turn red for the week of the conference.
Melbourne Storm ambassador and former captain Robbie Kearns said, "Melbourne Storm is thrilled to support AIDS 2014."
"As a Melbourne brand we are privileged to be supporting such an important health conference that will inform and educate locals and guests. We are right behind the City of Melbourne in painting the town red."
Tom Harley, President, Victorian Arts Centre Trust said that Melbourne's famous cultural precinct is proudly supporting this important event.
"Culture through its many arts forms plays an important role in helping to deliver valuable messages and engendering community engagement and I'm delighted that Arts Centre Melbourne, along with others in the precinct and many other organisations across the city, are uniting to show support for the conference through the cultural program," said Tom Harley, President, Victorian Arts Centre Trust.
For more information on the Australian Cultural Program AIDS 2014, visit: www.melbourne.vic.gov.au/aidsprogram for details.
Image: courtesy of the City of Melbourne