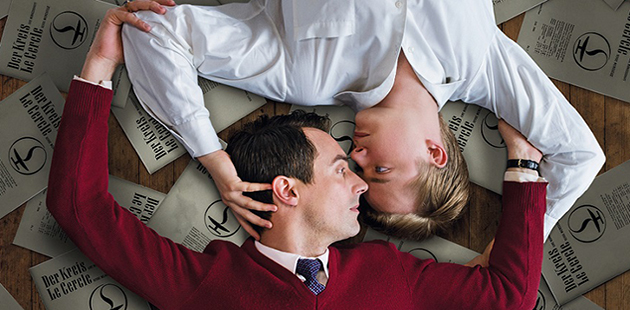 A sexy Sydney DJ on the run in the outback, a lesbian version of Rosemary's Baby, and a respected māhū  (transgender) teacher in Honolulu, are just some of the richly diverse and captivating stories lighting up the silver screen for Mardi Gras Film Festival 2015.
The Festival will showcase a wide range of passionate LGBTIQ cinema, both contemporary and classical, and from all corners of the globe. Amongst the teaser films alone, there are a number of premieres, award-winners and an Oscar contender.
"The Mardi Gras Film Festival has grown so much since 1993 and we're proud to be considered now as one of the top queer film festivals in the world," said Mardi Gras Film Festival Director, Paul Struthers. "The first ten teaser films being announced are just a small sample of the incredible films we have in store. This year is certainly going to be a memorable one."
Opening the Festival will be the Swiss entry for Best Foreign Language Film at the Academy Awards in 2015, The Circle. Part love story, part thriller and all astonishingly true, this docudrama tells the story of Ernst and Robi, a school teacher and drag entertainer and their decades-long romance after they meet through Zurich's gay publication 'The Circle' ('Der Kreis') in the 1940s. The film also won the Teddy Award for Best Documentary at the 2014 Berlin Film Festival, as well as the Panorama Audience Award.
Friday 20 February will be a night for the boys. Screenings include Boys, a tender coming-of-age drama from The Netherlands about two teenagers whose relationship blossoms when they are paired together for relay training; and The 10 Year Plan, about best mates Brody and Myles. One is a hot cop, while the other is a handsome lawyer. This odd couple makes a pact to get married in ten years' time if Grindr still hasn't managed to find them their Mr. Right.
Screening on the same night for the girls will be the 'lesbian love story of the Festival', called Tru Love. Named one of the Top Ten Movies of 2013 by Huffington Post, UK, Tru Love is about Alice, a beautiful widow who has come to spend some time with her busy corporate lawyer daughter, Suzanne. Then she meets Tru, a commitment-phobe who has had a complicated past with Suzanne. Tensions escalate when the bond between Alice and Tru becomes stronger and more intimate.
If you're in the mood for a Friday night thriller, rather than romance, then Lyle is the film for you. Starring actress of the moment, Gaby Hoffmann, (Girls, Louie, Obvious Child, Transparent), Lyle has been described as "a lesbian Rosemary's Baby." Hoffmann plays a pregnant woman whose first child dies under mysterious circumstances while she's pregnant with her second. As she spends more time in her beautiful apartment alone, her paranoia begins to unravel in an alarming fashion.
Meet some fun and fruity characters from around the world on Saturday 21 Feb as the Mardi Gras Film Festival takes you to some exotic new locations. Be transported to the sunny countryside of the Philippines in Anita's Last Cha-Cha, told through the eyes of 12-year-old Anita, who falls in love with a much older woman in town called Pilar.
Another festival favourite is Kumu Hina, which depicts a year in Honolulu in the life of Hina Wong-Kalu, a respected māhū (transgender) teacher, who inspires her students and longs for a committed relationship.
From New York, a renowned queer icon (who, herself is straight), Nan Goldin, made a name for herself as a photographer taking pictures of queers, artists, drug users and sex workers during the 70s, 80s and 90s. Nan Goldin: I Remember Your Face follows Goldin as she travels from Paris to Berlin, rekindling old relationships and mourning those who have passed. A Sydney premiere, it will screen in collaboration with the Head On Photography Festival.
All About E, is a sexy new Aussie road trip film about a beautiful Sydney DJ who has a world of women at her feet. When she and her husband of convenience, Matt, stumble upon a load of cash, they are forced to hit the road on the run from crooks. They soon realise there's nowhere left to go but into outback Australia, and for E, that means heading back into the arms of ex-girlfriend Trish. E must face up to the past and her family in order to survive.
There will also be a new collection of great international gay shorts including hilarious comedy Wham, Bam Mr. Pam about a former Catholic schoolgirl who becomes a superstar director of gay porn. Australia's biggest queer short film prize, My Queer Career, is also back.
"We've also got a fantastic line-up of films and over $10,000 worth of cash and support to be awarded to the most impressive LGBTIQ Australian films." said Paul Struthers. "Our 2014 winner went on to win the Iris Prize for Best Queer Short Film in the World. Our 2015 winner will also gain automatic entry to this competition, so make sure you join us for a special screening and ceremony."
The 2015 Mardi Gras Film Festival runs Thursday 19 February to Thursday 5 March at the Event Cinemas George Street, Sydney. Tickets are now on sale for the first ten films, with the full program revealed in January 2015. For more information, visit: www.queerscreen.org.au for details.
Image: The Circle