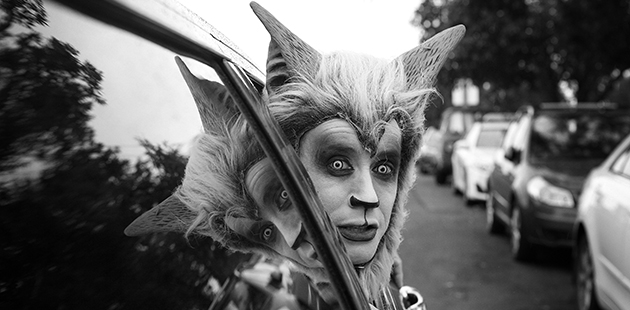 Prepare for a summer celebration of monumental proportions as Sydney Gay and Lesbian Mardi Gras announces a jam-packed program of events, performances, exhibitions and activities for its 2016 Festival season.
With the theme Momentum, Mardi Gras is saying:  it's time to stand up and be counted; turn passion into purpose, and let it ripple out and resonate around the world – evolving from Mardi Gras history in the fight for social justice and self expression.
Born from a night of political protest in 1978, Mardi Gras' spirit lives on 38 years later, in joyous celebration.  A shining light across the world, that demonstrates just how far the community has come; whilst acknowledging the journey and challenges ahead.
"Mardi Gras 2016 is a celebration of our whole community," says Fran Bowron, Sydney Gay and Lesbian Mardi Gras Co-Chair. "There are people all over the world who are unable to express their true selves, and this is our collective opportunity to show the world the most dazzling celebration of pride and diversity as we say 'we stand with you'."
MARDI GRAS 2016 SEASON HIGHLIGHTS:
Join over 80,000 people in Victoria Park for Fair Day, proudly supported by ANZ; a free, fun filled celebration of LGBTQI family and community on Sunday 21 February, 2016. From pooches and Pad Thai, to markets and music; dancing and drama, to rides, comedy, and crazy fun for the kids; Fair Day is for the whole family.
Queer Thinking gives audiences the low down on some of the meaty LGBTQI community issues for 2016, both at home in Australia and abroad. Inspiring, entertaining and provocative, Queer Thinking delves into what 'momentum' can mean from both inside and outside the diverse LGBTQI communities. The talk fest will take over venues across Sydney for the first time.
Gender Trailblazers returns to celebrate the courageous individuals, who take transgender rights from strength to strength on Friday 4 March, 2016. Gender counsellor and leading psychologist Dr Elizabeth Riley will host a riveting night of Trans* community conversation with speakers across the spectrum of ages and experiences. The evening at Monkey Baa will be a lively night of discussion, ideas and outlook for the community.
The Harbour is a brand spanking, shiny new, Mardi Gras event series on Fleet Steps, Mrs Macquarie's Point, presented in partnership with Canon.  An epic series of film, talks, concerts and musical spectaculars, glittering from our favourite shore.  Headlining the series is In Bed with Madonna, presented by Queer Screen to celebrate the film's 25th Anniversary! Australian pop icon, Tina Arena will perform an intimate concert at Tina Arena at The Harbour with all the classics like: I Need Your Body, Chains, and I Want To Love You. There will be a Sing-a-long with the Sydney Gay and Lesbian Choir to the film Mamma Mia as well.
The parade that captivates a nation and reverberates around the world; The Sydney Gay and Lesbian Mardi Gras Parade is back for its 38th year! Over 200,000 people will line the streets of Sydney's traditional Gay and Lesbian district in support of the 10,000 fabulous parade entrants who have united for a glittering spectacle of sparkles and self-expression on Saturday 5 March, 2016.
Parade Sideshow is the ultimate way to experience the Parade in style.  Hosted by acid tongued Drag diva Portia Turbo and TV host Andrew Mercado no sequined jockstrap passes without comment, or wardrobe malfunction missed. Leave the milk crates at home with some premium seating, exclusive access to bars, food stalls, live screens, and bathrooms. The Diamond Club, for Mardi Gras members and their guests only is an exclusive ticketed viewing area in the heart of the Parade celebration.
The Official Mardi Gras Party on Saturday 5 March, 2016, has over 12,000 partygoers from all over the world. This is the largest LGBTQI party in the Southern Hemisphere held at the Entertainment Quarter. Shiny and spectacular, the Party is a piping hot line-up of local and international DJ's, shows, and world class production that will soon be announced.
Send off Mardi Gras with a bang in a final event extravaganza between The Beresford and Flinders Hotel on Sunday 6 March, 2016. A cherished tradition of the Festival, The Laneway has evolved from a portable stereo on Hill St to a full blown street party. Expect live music, diva drop-ins, pop-up shows and world class DJs across a mix of indoor and outdoor spaces.
THEATRE:
Mega-watt stars of Australian drag Courtney Act & Trevor Ashley team up for their Gentlemen Prefer Blokes, Seven-Year-Itch reunion tour, and take on some of history's greatest duos as a part of the Rainbow Room. For three nights only from Thursday 3 – Saturday 5 March, the Sydney Opera House will transform into a hot-bed of comedy, chaos and cabaret as a line-up of stars take to the stage to paint the sails rainbow.
Shift from 1958 to the present and back again with The Pride at the Eternity Playhouse from Friday 5 February – Sunday 6 March 2016. Alexi Kaye Campbell's award-winning theatre piece promises to be a remarkable reflection on society's journey towards sexual attitudes, both past and present.
With Mad Max: Fury Road and The Great Gatsby under his belt, iOTA will put on a show just as high octane and memorable as his on screen performances on Friday 4 March 2016. Combining musical talent, amazing theatrical presence, and outrageous outfits, this will be an unforgettable showcase of old favourites as well as hits from his brand new album 'Wolf Number Nine'.
5 Lesbians Eating A Quiche is the uproarious, award winning theatrical show about a women's society forced to confront the future during their 'Annual Quiche Breakfast'. After taking America by storm this smash hit performance will have audiences at Belvoir Street Theatre coming back for second helpings from Tuesday 16 February – Saturday 20 February.
The sexy and hilariously raunchy double bill The Ultimate Lesbian Double Feature explores what Sappho and Virginia Woolf may have sexted to their lovers (had sexting been around during their time); and puts a lesbian twist on a 1950s American instructional video on how to prepare the perfect dinner party from 23 February to 05 March.
VISUAL ARTS:
William Yang: Stories of Love and Death features several strands of Yang's photography for which he is now well known, including his portraiture of celebrities (Patrick White, Brett Whiteley, Cate Blanchett) and historic Mardi Gras documentary work.  Investigate the importance of identity through photography from Wednesday 17 February – Saturday 5 March.
Raw, sassy and proud Fierce Femme brings together professional and amateur works in an exploration and celebration of the Femme Identity, Thursday 3 March. Telling the stories of Femmes within the LGBTQI community, the exhibition analyses what 'Fierce Femme' looks like through the eye of a lens.
The beard obsessed (and admit it, aren't we all!?) will revel in The Bearded Men Project; a series of oil portraits showcasing contemporary male presence and beauty at Blank_Space Gallery from Saturday 20 February to Friday 4 March. The exhibition aims to highlight there's more to gay men than "abs, bums, sneers & pouts".
MUSIC
Australian pop icon, and newest ARIA Hall of Fame inductee, Tina Arena will send shivers up the spine at Tina Arena at The Harbour, presented in partnership with Canon on Thursday 25 February, as well as the State Theatre on Friday 4 March, 2016. With a name synonymous with Australian music, Arena fans can catch all the classics like: I Need Your Body, Chains, and I Want To Love You.
Bearded beauty and 2014 Eurovision Song Contest winner, Conchita Wurst, is teaming up with Sydney Symphony Orchestra to bring her new show From Vienna with Love to Mardi Gras.  Rising like a Phoenix from the steps of the Sydney Opera House, Wurst will be joined by special guests Courtney Act, Trevor Ashley and Paul Capsis at the Concert Hall.
FILM:
The ever-popular Mardi Gras Film Festival presented by Queer Screen is on again in 2016 at Event Cinemas George Street, from Thursday 18 February – Thursday 3 March. Opening with Summertime, a lesbian love story; and the hotly anticipated documentary Remembering The Man, the real-life story behind Holding The Man.
SPORTS AND OUTDOORS:
The most stylish run in Sydney, the Little Black Dress Run, returns to Darling Harbour on Sunday 28 February 2016. Rock your frock for the 3km run/walk around Darling Harbour in the name of charity. The event has become a "must do" for the Mardi Gras season, so frock up and stretch out those hamstrings and heels!
Break out the hairspray and blue eye shadow for 80s themed The Mardi Gras Disco Climb. This is Sydney's highest disco dance party, with retro track list; climb leader guides; and the most fabulous ascent over Sydney Harbour Bridge, from Thursday 25 February – Wednesday 9 March 2016.
PARTIES
A festival within a festival for all things furry and cuddly, the Harbour City Bears' Bear Festival will be returning across multiple venues.   As well as the highly successful pop-up, Bear Bar at the Burdekin Hotel. There's nine days of themed party nights, tasty beers, live performances, delicious food, great DJs, and a big ol' bear hug awaits at Sydney's woofiest bar, Friday 26 February – Thursday 3 March.
Get outside and make the streets of Sydney a dance floor with Silent Disco Tours, a series of one hour magical disco adventures at Sydney hot spots from Saturday 21 February to Friday 4 March 2016. Don disco gear and a set of special discoD headphones to 'Get Physical' with new and old favourites.
"This year absolutely represents every colour of the rainbow, to match the incredible diversity of our community," says Michele Bauer, Sydney Gay and Lesbian Mardi Gras CEO. "The Festival really is the most amazing two week long celebration, an opportunity for everyone to get involved and have their voices heard. From visual arts, theatre, film, the Parade, outdoor family activities; whether you're eight or 89, there is something for you."
The 2016 Sydney Gay and Lesbian Mardi Gras Festival runs from Friday 19 February to Sunday 06 March. Tickets go on sale Wednesday 02 December 2015. For more information, visit: www.mardigras.org.au for details.
Image: iOTA (supplied)