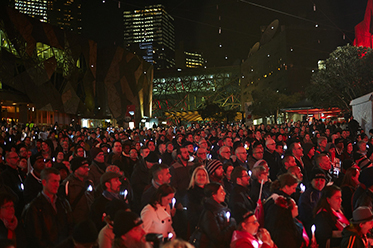 A large turnout gathered at Melbourne's Federation Square on Tuesday evening for the AIDS 2014 Candlelight Vigil to remember lives lost due to HIV and AIDS, while looking forward to a world free of the virus.
The Vigil also took a moment to remember the AIDS 2014 delegates who died en route to Melbourne on Malaysian Airlines flight MH17, shot down in the Ukraine last week.
A tradition of the International AIDS Society Conferences, the AIDS 2014 Candlelight Vigil was hosted by MC Richard Taki and featured a number of keynote speakers from diverse groups within the local and global community of people engaged in the fight against HIV and AIDS.
Thanking the lost HIV researchers and lobbyists for their dedication to improving the lives of those with HIV, Taki said: "At this incredibly sad and sensitive time, we stand with our international family and send condolences to the loved ones of those who have been lost in this tragedy."
"We are particularly saddened by the loss of the delegates who were travelling to Australia to participate in the AIDS 2014 conference. Their contribution to the cause has been outstanding. We thank you."
As Federation Square was lit up in a sea of candles, musical performances included the Melbourne Gay and Lesbian Chorus and Melbourne Gay and Lesbian Youth Chorus, Dani Sib, and a special performance by Wicked the musical cast members, Lucy Durack and Jemma Rix.
Prior to the Vigil, parts of Melbourne's CBD came to a stand still as a mobilisation march made its way from the Convention Centre to Federation Square.
The AIDS 2014 Conference continues to Friday. For more information, visit: www.aids2014.org for details.
Image: Attendees at the Candlelight Vigil held in Melbourne's Federation Square – photo:  James Braund / International AIDS Society