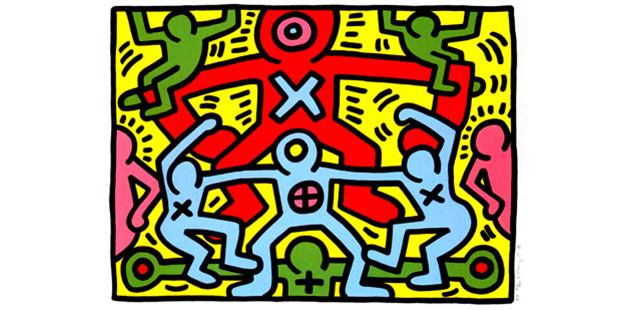 Twenty-five years after Keith Haring's death his art still endures. Even before his diagnosis Keith Haring knew he was going to die of AIDS. For a gay man living in New York City in the late 1980s AIDS was all around. Haring had already watched many of his friends die when, in 1987, he wrote: "I don't know if I have five months or five years, but I know my days are numbered." The internationally renowned artist and activist had, in fact, three years to live.
Haring arrived in New York's East Village in 1978 as punk made way for New Wave, and he quickly became immersed in the underground art scene — literally. Inspired by the graffiti that covered the trains, Haring gained public attention with hundreds of chalk drawings he created in the depths of the city's subway stations. "The subway became like a workshop to develop ideas and the vocabulary to expand," said Haring. The drawings soon caught the eye not only of commuters but also of city authorities and Haring was arrested for criminal mischief on several occasions.
Soon, his work was being exhibited in galleries across Manhattan and, before long, around the world. Haring was now working with artists and performers such as Madonna, Grace Jones, Yoko Ono, William S. Burroughs, Boy George and Andy Warhol. In spite of the international recognition Haring always remained a street artist at heart, believing that "art is nothing if you don't reach every segment of the people. It is not an elitist activity reserved for the appreciation of the few, but for everyone."
For Haring it was all about keeping art accessible — when he was invited to pick a space in which to paint a mural within the Lesbian, Gay, Bisexual and Transgender Community Centre in the West Village, Haring chose the men's bathroom. With hip-hop and rap music blasting out of his ubiquitous ghetto-blaster, Haring would go on to produce more than 50 public artworks in dozens of cities around the world, including Melbourne and Sydney.
Haring was openly gay and his sexuality featured prominently in his work. As did AIDS, especially following Haring's own diagnosis in 1988. Back then, AIDS was widely considered a "gay plague", divine retribution for engaging in immoral practices. Haring hit back at such ignorant dogma by presenting the disease through a prism of political power. In 1989, he established the Keith Haring Foundation to support AIDS organisations such as ACT UP.
At a time when many people suffered in silence, Haring helped generate AIDS awareness by being completely open about his illness. "We got infected because we didn't even know the thing existed," Haring told Rolling Stone in 1989. "When people started getting sick, they had no idea where it was coming from, had no idea that it was out there. So you didn't know how to be protective and prevent it. If you didn't know about it, you can't be responsible for it."
Featuring bold lines and bright colours and created with frenetic energy, Haring's signature images include dancing figures, a radiant baby, a barking dog and large hearts. Although Haring's hand-drawn symbols are simplistic, the messages fuelling them are anything but: Haring's vibrant art represents responses to racial inequality, religious warfare, capitalist excess, political oppression, and homophobia. Yet despite exploring serious social issues, Haring's work exudes an inherent joy and optimism.
During the last years of his life Haring's imagery spoke about his own illness. A "devil sperm" begins to arise in much of his work — Haring's personification of AIDS.
Towards the end, however, Haring found his impending death strangely liberating: it pushed him to create at a prolific rate. "It adds another kind of intensity to the work that I do now," Haring said at the time. "It's one of the good things from being sick."
Keith Haring died on 16 February 1990 of an AIDS-related illness. He was 31. Since his death Haring has been credited for creating a universally recognised visual language of the 20th century. He has been the subject of several international retrospectives — the most recent in San Francisco — and his work is still exhibited in major museums around the world today. "When I die there is nobody to take my place," wrote Haring. It's been 25 years, and nobody has.
Iconography with a conscience By Christopher Kelly
This article was originally published in the Autumn edition of Positive Living. Read the article here.
Image: Keith Haring, Untitled, 1985