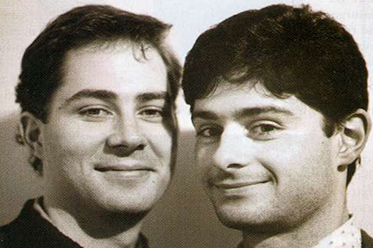 Screen Australia has announced that Timothy Conigrave's acclaimed memoir Holding the Man has received production funding for its film adaption.
Based on Conigrave's memoir and Tommy Murphy's theatre script, Holding the Man will be produced by Kylie du Fresne (The Sapphires) and directed by Neil Armfield – acclaimed Australian theatre director who returns to feature films after 10 years.
The film is a moving romance of Timothy Conigrave and John Caleo – who meet at high school in the 70s. Its cultural, generational and social themes of a challenging 15-year relationship have relevance beyond the story's cult status.
Holding the Man was first published in February 1995, winning the United Nations Human Rights Award for Non-Fiction. It was listed as one of the "100 Favourite Australian Books" by the Australian Society of Authors for its 40th anniversary in 2003.
Directed by David Berthold, the stage adaption by Tommy Murphy, premiered in 2006 at Griffin Theatre Company. It is considered one of the most successful Australian theatre productions of recent times, and has been the recipient of multiple awards including a Helpmann Award for Best Play in 2007.
Holding the Man is one of five films to share $4.3million in production funding announced by Screen Australia on Friday 28 March.
"It is great to see such a diverse range of production taking place in Australia and this funding round continues to balance support for new and experienced talent in our sector," says Screen Australia CEO, Graeme Mason.
It is anticipated Holding the Man will go into production later this year with a release sometime in 2015. For more information, visit: www.screenaustralia.gov.au for details.
Image: Timothy Conigrave and John Caleo (early 1980s)