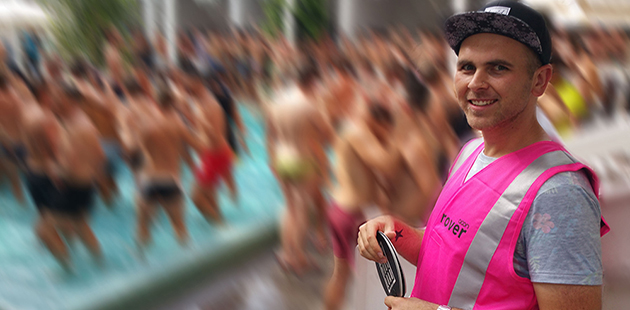 ACON is encouraging Mardi Gras revellers to look after themselves and their mates during this year's Mardi Gras season, especially in relation to HIV, sexual health, alcohol and other drugs, and street safety.
ACON CEO Nicolas Parkhill says an important part of enjoying Mardi Gras is about ensuring health and safety is front of mind. "Mardi Gras is all about celebrating who we are as a community and having a great time doing it," said Mr Parkhill. "Playing safe will help partygoers have a much more enjoyable Mardi Gras experience, and make it a season to remember for the best of reasons."
Mr Parkhill says ACON recommends a range of measures for a fun and safe Mardi Gras.
Condoms – Use Them
"We urge gay men to help reduce HIV transmission by using condoms and water-based lube when having sex with casual partners. It's the most effective way to stay safe, and with 60,000 free ACON condom packs at LGBTI venues and events, it's also the easiest."
PEP – Act Quickly!
"If you think you've been exposed to HIV, PEP may prevent you becoming infected – if you act quickly. PEP (Post Exposure Prophylaxis) is a course of anti-HIV medications taken over a four week period, but needs to be started as soon as possible after exposure – within 72 hours." PEP is NOT a substitute for safe sex – using condoms is always the best prevention. More information is at the 24-hour PEP Hotline: 1800 737 669.
HIV –  Get Tested And Treat Early
ACON operates a permanent rapid HIV testing facility on Oxford Street, Darlinghurst in addition to existing ACON's a[TEST] services in Surry Hills, Newtown and Kings Cross. "Rapid testing provides results within 30 minutes. a[TEST] Oxford St is located at 167 Oxford St and operates between 11am – 7pm, Monday to Saturday. Just walk in or make an appointment by visiting www.atest.org.au. Knowing your HIV status means you can take action to look after your health and the health of your partners. And getting more gay men to test more often is the only way we can reach our goal of ending HIV transmission in NSW by the end of the decade, so I urge gay guys to get tested this Mardi Gras season."
Alcohol and Drugs – Reduce Harm
Mr Parkhill says reducing the harms associated with alcohol and other drugs is also important. "There are often new drugs emerging or drugs that have different strengths. It's important to know as much as you can about what you are taking. Mixing G and alcohol continues to be a key cause of overdose. It's important to tell someone you trust what you've taken, and to get help immediately if it's needed. Also, the ACON Rovers will be at all the major parties to help people experiencing any difficulties." Visit the ACON website (www.acon.org.au) for information and advice about partying safely
Fair Play – Know Your Rights
"There will be significant police operations at selected Mardi Gras events, which will involve sniffer dogs and, in some cases, personal searches for drugs. If police want to search you, it's best to cooperate and not show aggression as this behaviour has sometimes resulted in charges against people." To help partygoers understand their legal rights during the Mardi Gras season, ACON, Mardi Gras and the Inner City Legal Centre have developed an initiative called Fair Play. Volunteers will be on hand at the Mardi Gras Party to provide information on rights and legal support, offer emotional support and monitor police operations. Information about rights and safety is available on the Fair Play website: www.fair-play.org.au.
Street Safety – Report Violence
Mr Parkhill says keeping safe on the street is also key to having a great Mardi Gras. "To avoid violence, we recommend partygoers travel to and from venues with friends, avoid responding to abusive behaviour as this can escalate violence and get to a safe place if they feel threatened. All violence and harassment should be reported to police for immediate action because if the types of violence are on the public record, then agencies such as ACON can lobby for improved security for our community." Information on reporting violence to the police or to ACON is available on the ACON website: www.acon.org.au
Image: ACON Rover – courtesy of ACON
Source: www.acon.org.au