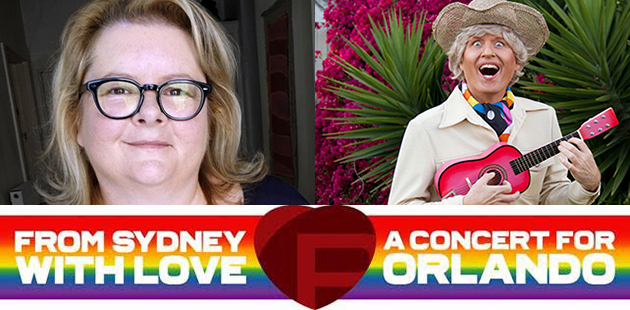 On Saturday 11 June the world was devastated by the news of the mass shooting at Pulse Nightclub, a gay bar in Orlando, Florida. Forty nine died whilst many more were physically and emotionally injured by the event. People around the globe are coming together to show their support for the Orlando LGBTQI community through strength in numbers and fundraising efforts.
At the Sydney Town Hall on Monday 11 July, a superb array of Australia's top artists are coming together to create what will be a dazzling evening of entertainment. Featuring Magda Szubanski, Joel Creasey, Bob Downe, Paul Capsis, iOTA, Emma Matthews, Simon Burke, Virginia Gay, and many more. This will be a concert of love songs, expressing strength and solidarity with the community in Orlando.
"We've thrown open the doors of Sydney Town Hall to raise much needed funds for those directly impacted by this horrendous shooting," said Sydney Lord Mayor Clover Moore. "Many of the city's top performers are donating their time, talent and energy. It's time for Sydney to come out in support of Orlando's LGBTIQ community.
Funds raised from the concert will go to the "Equality Florida Pulse Victims Fund". Equality Florida is collecting contributions to support every single victim of the horrific shooting at Orlando's Pulse Nightclub.
This includes victims' families, survivors, and those in the club who may not have suffered physical injury but in need of support. They are working with the National Center for Victims of Crime (NCVC) to distribute the contributions via their National Compassion Fund. So far in excess of $USA6 million has been raised.
From Sydney with Love – a Concert for Orlando
Sydney Town Hall, 483 George Street, Sydney
Performance: Monday 11 July 2016 – 8.00pm
Bookings: www.ticketmaster.com.au (tickets on sale Thursday 30 June – 9.00am)
Image: Magda Szubanski and Bob Downe are just two of the artists to feature in From Sydney with Love – a Concert for Orlando