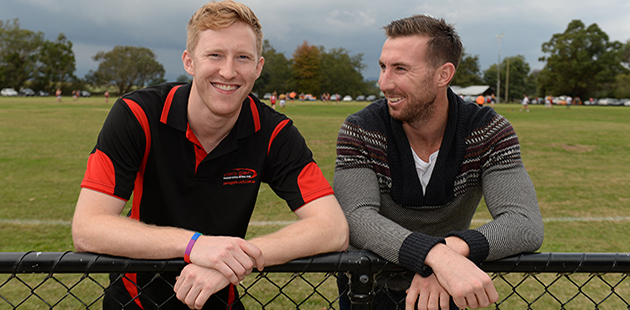 Former Carlton midfielder Brock McLean will don the red, black and rainbow on Sunday 17 May by playing for Yarra Glen in the 2nd annual Pride Cup.
The 2014 champions will be hoping to retain the cup when they take on challengers Warburton Millgrove at Yarra Glen Recreation Reserve as part of the Yarra Valley Mountain District Football Netball League (YVMDFNL).
Pride Cup celebrates diversity and inclusion in sport for those that identify as lesbian, gay, bisexual, transgender and intersex (LGBTI) and will be played on the International Day Against Homophobia and Transphobia (IDAHOT).
The day will include a range of football and netball games ending with the senior Pride Cup matches beginning at 1.15pm and the presentation of the Pride Cup at 4.30pm.
The football ground will feature rainbow colours, the international symbol of gay pride, at the 50m line in a show of support for LGBTI inclusion that has been embraced by the teams, the local community and the AFL. Both teams will wear jumpers that incorporate the rainbow colours to show their support for the community.
Brock says inclusion and acceptance needs to start in community sports by allowing those that identify as LGBTI to feel ok to be themselves: "Many young people grow up playing or watching community sports. It is important that they feel safe and included both on and off the field," says Brock.
The 2015 Pride Cup tales place on Sunday 17 May. For more information, visit: www.pridecup.org.au for details.
Image: Jason Ball and Brock McLean at the 2014 Pride Cup – photo by Mal Fairclough (The Sunday Age)