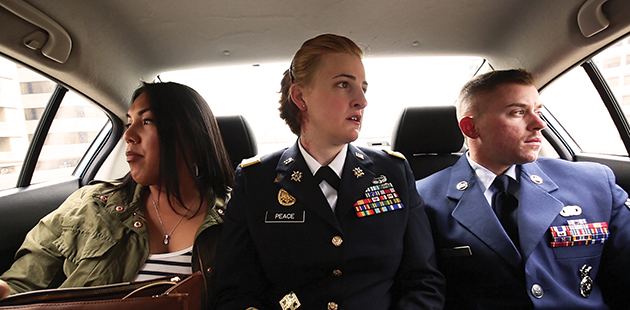 Showcasing a diverse range of LGBTIQ stories from around the world, Queer Screen has offered a first look of the 26th Mardi Gras Film Festival program announcing 10 teaser films that will be screened in February 2019.
"Our ten teaser films are just the tip of the iceberg for what will be a bumper festival for Sydney audiences come February," said Festival Director, Lisa Rose. "70% of our teaser films are Australian premieres and I'm thrilled that these ten films already cover a diverse range of stories, people, genres, sexualities and gender identities."
In a first for the festival, the middle Wednesday will feature a Documentary Centrepiece film and party, with Audience Award winner at SXSW Film Festival TransMilitary having the honour.
"Adding a documentary centrepiece to the program this year was born out of the desire for TransMilitary to be seen by the widest audience possible," said Rose. "It's a little known fact that whilst Trump is trying to ban transgender people from the military, the military is in fact the largest employer of transgender people in the US, with 15,000 people choosing to serve their country. TransMilitary is a changemaker."
Other highlights include the hotly anticipated Sauvage – a powerful portrait of a gay hustler on the streets of France that sent shockwaves through the Cannes Film Festival for its unrelenting and visceral imagery. Sundance Award Winner Night Comes On is a beautifully compelling film which follows Angel as she reenters the world from prison seeking a revenge she hopes can bring her peace.
Snapshots will transport you back to the 60s and a sexy secret love affair between two women, whilst Freelancers Anonymous fills the screen with a fabulous, mostly female cast in a hilarious screwball comedy without the heteronormativity. A moving drama from Hong Kong about a teenage romance rekindled in adulthood, I Miss You When I See You is partially set in Sydney, and Kanarie is a refreshing, funny and achingly insightful coming-of-age tale set in 1980s South Africa.
One of the many documentary highlights comes from Tonga, as we meet the incredible Leitis In Waiting and their spirited fight for equality; along with Silvana about a lesbian rapper and pop singer who became a queer powerhouse duo and symbol for youth in the face of a frightening neo-fascist revival in Sweden; and the sparkling documentary Every Act Of Life that raises the curtain and shines a spotlight on acclaimed playwright and LGBTIQ activist Terrence McNally.
The 26th Mardi Gras Film Festival runs 13 – 28 February. The full festival program will be announced on Wednesday 9 January 2019. For more information, visit: www.queerscreen.org.au for details.
Image: Transmilitary (film still)