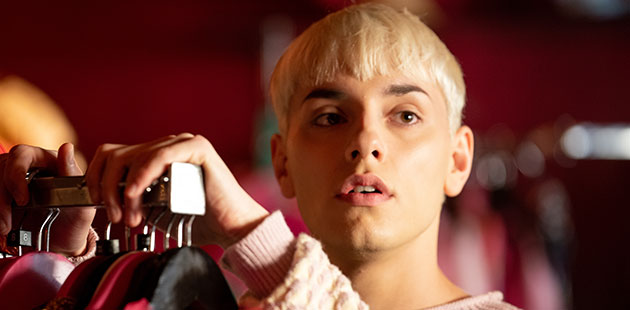 Inspired by true events, New Regency and Film4's Everybody's Talking about Jamie is the film adaptation of the hit musical. The film opens in Australian cinemas in January 2021.
Jamie New is 16 and doesn't quite fit in – instead of pursuing a "real" career, he dreams of becoming a drag queen. Uncertain about his future, Jamie knows one thing for sure: he is going to be a sensation. Supported by his loving mum and his amazing friends, Jamie overcomes prejudice, beats the bullies and steps out of the darkness, into the spotlight.
Inspired by a true story and a BBC documentary Jamie: Drag Queen at 16 – Everybody's Talking About Jamie is topical and timely. The joyous, high-spirited musical presents an extended modern 'family' of characters that everybody knows and depends on. They'll make you laugh and move you to tears – it speaks from the heart and shoots for the stars.
The film stars newcomer Max Harwood as Jamie, and features Sarah Lancashire as his mother Margaret, Lauren Patel as Pritti Pasha, Shobna Gulati as Ray, Ralph Ineson as his homophobic father Wayne), Adeel Akhtar as Iman Masood and Samuel Bottomley as Dean Paxton – with Sharon Horgan as Miss Hedge and Richard E. Grant as former drag queen Loco Chanelle.
The stage production's director, Jonathan Butterell, makes his feature-film debut as director, with screenplay and lyrics by Tom MacRae, songs by Dan Gillespie Sells and a score composed by Sells and Anne Dudley.
---
Everybody's Talking about Jamie opens in Australian cinemas in January 2021. Checkout the trailer here!
Image: Max Harwood stars as Jamie in Everybody's Talking about Jamie (supplied)