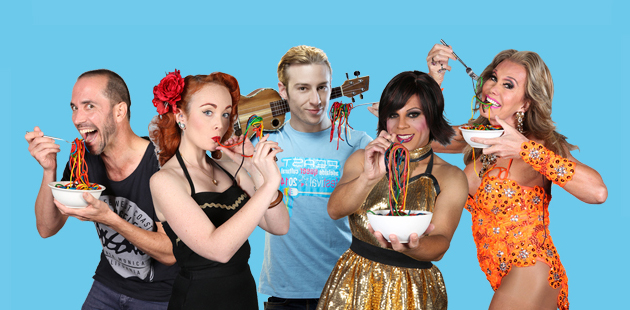 After an amazingly successful festival last year and delivering a sensational celebration of diverse genders, sexualities and queer culture to South Australia, the board of management of Feast Festival is determined to build on this success.
In 2015, we are changing our delivery model and moving from a fully curated model to a hybrid curation festival. This change in direction looks to merge the effective operating models of other local and international festivals whilst maintaining our unique offering to our community through vibrant and diverse programming. LGBTIQ artists will be able to register their performances, works and endeavours for inclusion in the festivals program alongside major events that remain the mainstay of our program.
This new delivery model was agreed upon by the Feast Festival Board of Management as part of a recent review of operational requirements in response to financial constraints. Owing to the strategy the position of Artistic Director has become genuinely redundant, and it is with sadness and gratitude that we say goodbye to our wonderfully successful Artistic Director, Ms Catherine Fitzgerald in May 2015.
Catherine will leave Feast after 2 very successful festival periods where she successfully directed fully curated programs. On behalf of our 44,000 audience and community members, the Chair of the Board, Mr Joshua Rayner, thanks Catherine for her tireless efforts in creating the largest curated Queer Arts and Cultural Festival in Australia.
"Catherine Fitzgerald is truly one of the great artistic minds in South Australia. It was with her passion that Feast won Adelaide City Council's Community Event of the Year for 2015, and our audience growth is a direct result of her expertise," said Mr Rayner.
"Feast is not just a festival, but an organisation that runs 365 days a year to provide a platform, voice and support to queer artists, members and the South Australian Community, and I thank Catherine for her commitment to our cause."
Feast Festival for 2015 is on track to build on its success and welcomes new partnerships with Telstra Business Centre – Adelaide North, Your World Fitness, Adelaide Mini Garage, Fresh FM and thanks supporter Channel 9 for increasing its commitment to diversity and inclusion by providing even greater support to our festival.
The 2015 Feast Festival takes place 14 – 29 November. For more information, visit: www.feast.org.au for details.
Image: courtesy of Feast Festival
Source: Feast Festival