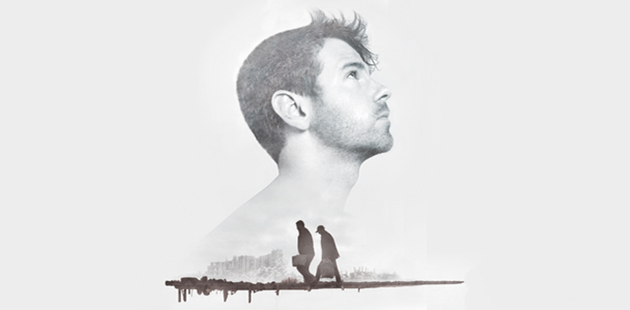 A young man pieces together a personal story of love and flight. Based on interviews with gay refugees and inspired by the work of award-winning photojournalist Bradley Secker, this Australian premiere journeys through a no-man's land of empty train stations, treacherous border crossings and bomb-blasted towns.
Directed by John Kachoyan (MTC, Bell Shakespeare) and featuring a powerhouse performance by Nick Simpson-Deeks (Company, Winners & Losers), Elegy fuses intimate storytelling and visual poetry tolure you into a playful, theatrical and devastating world.
The play is an exploration of the human loss linking us all, regardless of our religion or politics. Devised using real-life testimonies and created by Douglas Rintoul from Transport Theatre UK, Elegy immerses its audience in an empathic yet confusing romantic journey before falling into the play's political depths.
Audiences will be spellbound by the elegance and artistry with which Elegy handles such difficult subject matter, and at a time when our own elected leaders continue to show resistance to marriage equality and maintain their commitment to "turning back the boats", this award-winning work lays bare the human cost to these vote-seeking headlines.
Nick Simpson-Deeks is a NIDA Acting graduate, award-winning writer, Mike Walsh Fellow and Steppenwolf Theatre Company alumnus. He has been twice nominated for a Green Room Award for Best Supporting Actor in a musical – for Assassins (2014), and Pacific Overtures (2015) – both for Melbourne initiative Watch This.
He appeared in Jerry Springer the Opera (Sydney Festival), was the alternate Frankie Valli in the original Australian cast of Jersey Boys, and created the role of Fitzpatrick in Ned: A New Australian Musical. Onscreen, Nick is best known for playing journalist Archie MacMahon in both seasons of the critically acclaimed SBS drama series The Circuit, and Rhys Mitchell in Seven's Winners & Losers.
Other screen credits include Underbelly: Fat Tony & Co., Stormworld (Nine), Mr & Mrs Murder (Ten), The Strange Calls, Play School (ABC), and City Homicide (Seven). He played the role of Billy Name in Jim Sharman's film musical Andy X, and portrayed Irish rider Pat Smullen in the 2012 feature film, The Cup.
Audiences will also have an opportunity to view the images that inspired Elegy, as Gasworks Arts Park presents a special exhibition of photojournalist Bradley Secker work. Focussing on the consequences of social, political, and military actions worldwide, Bradley's work has a key focus on individual identity, such as his ongoing Kütmaan series about GLBTIQ asylum seekers from the Middle East. Other work documents the Syrian conflict and cultural stories in and around Turkey.
"Some stories are more powerful than others. He's worried his isn't powerful enough…"
Director: John Kachoyan  Performer: Nick Simpson-Deeks  Sound Design/Composition: Russell Goldsmith  Lighting & Set Design: Rob Sowinski  Associate Designer: Bryn Cullen  Producers: Lyall Brooks & Adam Fawcett
Elegy
Studio Theatre – Gasworks Arts Park, 21 Graham Street, Albert Park
Season: 21 January – 6 February 2016 (previews: 19 & 20 January)
Bookings: www.gasworks.org.au or www.midsumma.org.au
For more information, visit: www.gasworks.org.au for details.
Image: Nick Simpson-Deeks