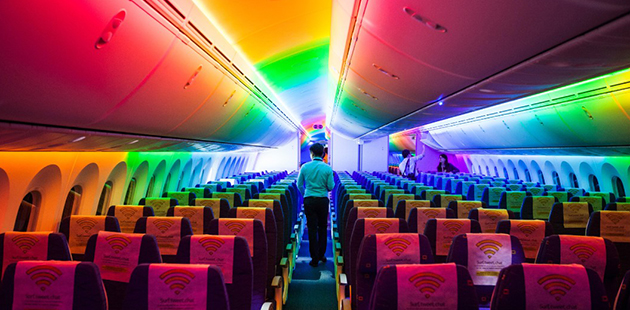 Scoot Airlines, the low-cost, long haul carrier based out of Singapore, is the latest to get on board with LGBTI tourism, signing up as a member with lead tourism body – Gay and Lesbian Tourism Australia (GALTA).
Launched in 2012, Scoot has now expanded to offer 13 destinations (71 with partner agreements) flying from the Gold Coast, Sydney, Perth and Melbourne (from 1 November 2015) to Singapore and beyond into Asia, to destinations such as Bangkok, Hong, Kong, Seoul, Tokyo, Osaka, Tianjin and Taipei.
General Manager, Dennis Basham said that the airline is differentiating itself from other low-cost airlines by focussing on creating a sense of fun and providing a warm welcome to all travellers. Coupled with brand new 787 Dreamliners servicing all Australian ports, a focus on safety and on-time performance, all with great Scootitude service – this is part of the brand's DNA.
"As a relatively new airline, Scoot brings a lot of enthusiasm and energy in connecting our guests with some great Asian destinations and we see the gay and lesbian community as a key audience," said Mr Basham. "As frequent travellers with a tendency to take long-haul holidays to warm, beach destinations and countries with a rich, cultural landscape, the LGBT market is already choosing to fly with Scoot and our aim is to become the preferred airline."
Mr Basham said that choosing to support GALTA was central to this objective and that he was excited about the future opportunities and being involved with the association.
"GALTA is a must to connect with if companies want to be serious about working with the LGBT travel market," said Mr Basham. "The association is the key 'go-to' body for all the tourism marketing agencies in Australia and its close partnership with the international market via IGLTA (International Gay & Lesbian Travel Association) brings global connections."
GALTA is a national membership network of tourism professionals dedicated to the welfare and satisfaction of all gay and lesbian travellers within and to Australia. Gay & Lesbian Tourism Australia Ltd is a non-profit organisation operated by a team of elected individuals who work with federal, state and regional tourism bodies, corporations, businesses and individuals to develop and grow the gay & lesbian market and increase the awareness of gay & lesbian travellers and their needs.
For more information, visit: www.galta.com.au for details.