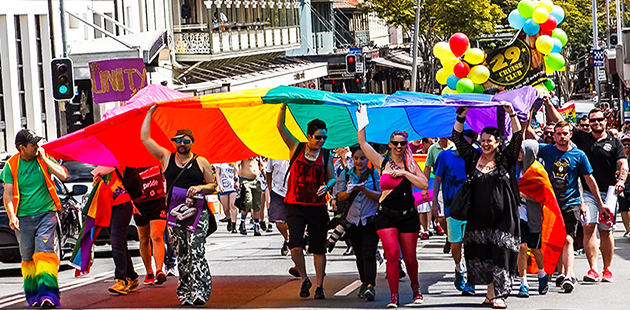 The 2015 Brisbane Pride Festival has kicked off with a month full of festivities that includes a diverse selection of artistic, sporting and political events that highlight the talent and diversity of Queensland's LGBTI Community with the theme commUNITY.
Brisbane Pride President Peter Black said the theme of commUNITY was chosen for two reasons: "First, it is hoped that it will empower Queensland's LGBTIQ community to stand proudly together as we fight prejudice, discrimination and stigma. It is only by supporting one another in unity that we will achieve true equality. Second, it is hoped that it will highlight the extraordinary and exciting diversity of the LGBTIQ community in Queensland."
"While in many ways the LGBTIQ community is constantly divided and segregated into labels – from the letters that make up the LGBTIQ acronym, to the various labels and cultures that we impose on ourselves and others – it is important that together we celebrate the achievements of our rich and vibrant community."
Brisbane Pride Fair Day returns to New Farm Park on Saturday 19 September and it is shaping up to be even better than last year. Kicking off with the traditional Pride Rally at 10.00am, the March will then proceed down Brunswick Street to the rainbow flowering arches of New Farm Park – where gates will open from 10:30 am.
An incredible selection of food stalls and an array of market and community stalls will be on offer to delight, entertain and inform you. The main and community stage will feature local and national talent including the Mr Pride competition, Brisbane's best DJs and the traditional Pet Parade.
Other festival highlights include Desirelines at the Judith Wright Centre; Balls Out Bingo at the Sportsman Hotel; Il Ritorno or VELVET at the Brisbane Powerhouse; join the Brisbane Pride Choir in Pride Does Eurovision; and the (in)famous Pink Pub Prowl returns, guaranteeing to be more fun than a barrel full of rainbows.
The 2015 Brisbane Pride festival continues to the end of September. For more information and full programme, visit: www.brisbanepride.org.au for details.
Image: courtesy of Brisbane Pride Festival