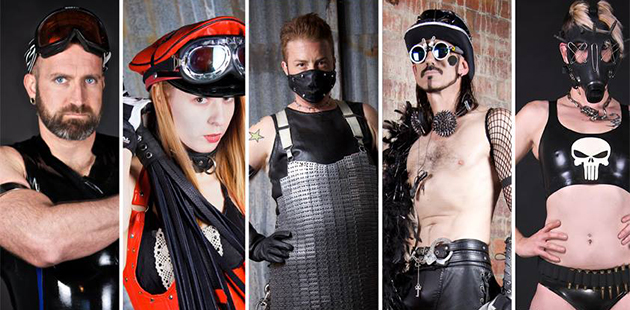 Get ready to get your kink on as lovers of all things fetish and leather are set to celebrate three weeks worth of events, parties and workshops during this year's Brisbane Leather Pride Festival.
Brisbane Leather Pride is dedicated to supporting your fetish lifestyle by collaborating with the community to present more than 20 events to cater for all tastes. We take a look at some events worth checking out:
Fetish and Alternative Market – Friday 22 August
The opening event of the Brisbane Leather Pride Festival, it's your chance to meet some of Brisbane's best producers and suppliers of Fetish and Alternative clothing, toys, furniture and accessories.
Blood Lust Ball – Saturday 23 August
Brisbane Leather Pride and the Carpathian Magistratus Vampyre Society present a brand new generation of South East Queensland kinksters with an opportunity for dark, fetish, vampire fun for one night only with standout musical performances from Alice Ivy, Tycho Brahe and more.
The Brisbane Hellfire Club: Leather and Latex – Saturday 23 August
For some, the leather lifestyle is to be encased in latex or trimmed in lace. For over two decades, The Hellfire Club have been the first glimpse of a new world to thousands of eyes about to begin their sensual journey into hedonistic pursuits, from a little hot wax to serious, hardcore floggings.
The BootCo. Leather Dinner: Spartans – Saturday 30 August
The men of Sparta were known for their brotherhood and bond, fighting side by side in the face of adversity. Come along for an unforgettable night of men, leather and fun. Get ready for another awesome Leather Dinner with mouth watering Spit Roast BBQ Meats and fantastic sides, along with great company, raffles, slave auction and awesome shows.
Tom's Bar – Saturday 6 September
Tom's Men are always ready to play, embrace their manhood and love to get down and dirty. With the BootCo. Dungeon and the first rounds of Mr Queensland Leather taking place, as well as some sexy shows, it's bound to be a fun night.
Evil-Lution Play Party – Saturday 13 September
A Warehouse Party on the Gold Coast. Over 200 square meters of Play Space and Chill Space, various play equipment, and all the other things you expect from Evil Girls Inc. 20 different play spaces including 2 separate medical area's complete with hospital beds, Rope Suspension points, multiple Flogging points, Stocks, Y Frame, and more.
BootCo. presents Corium (Mr Queensland Leather) – Saturday 13 September
A celebration of masculinity and brotherhood in the Leather and Kink community. Get your gear ready because this is going to be a party to remember, in a new secret venue, complete with multiple spaces to party or relax in. The flagship for our Mr Queensland Leather competition with the winner chosen on the night – also expect a series of shows, plus a special dungeon space to explore your inner beast in.
There are also plenty of workshops and panles to choose from: the dynamics of consent and consent negotiations in a wide variety of situations and circumstances will be explored in The Consent Workshop; learn how to channel your inner beast, or to handle those in the animal head space in the Pet Play Workshop; or find out how to become experienced enough to be able to take the term of Mistress or Master in the Old Guard VS New Guard Panel.
Check out what the adult store Spunk'd has on offer at their open day – cuffs and floggers, dongs and toys plus much more, or check out the dungeon shop for all things kinky and fun at the Black Rabbit open day.
Festival President, Vandellous says: "With a festival programme full of workshops, events, parties, and panels, we think the festival contributes a unique element to the local culture, a focal point for Kinksters to revel in their interests, and an invitation for engagement and fun, no matter one's identity."
The 2014 Brisbane Leather Pride Festival runs from 22 August – 14 September across Brisbane and the Gold Coast. For more information and to download the Event Guide, visit: www.brisbaneleatherpride.com for details.
Image: photo by All-of-It Studios