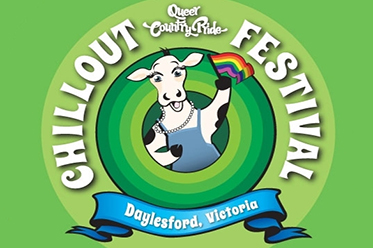 Now in its 16th year, ChillOut has grown to become one of the biggest and longest-running Country Queer Pride event in regional Australia, and the largest festival in Hepburn Shire.
First staged in 1997, ChillOut began as an annual festival of Springs Connection, a local gay and lesbian business group in Daylesford, and now, each year the festival has been hosted over the Victorian Labour Day long weekend in March.
In 2014, ChillOut promises something for everyone to enjoy with around 30 events programmed over the long weekend from comedy to cabaret, food & wine, the popular Bush Dance, the Street Parade, Carnival and Dance Party.
The annual Street Parade on Sunday morning is a highlight of the festival with the theme this year, Superheroes and Villains. Get on your spandex, capes and boots and strut your superhero or devilish villain might before thousands of spectators who line Vincent Street, Daylesford.
Who doesn't love a fair, and ChillOut's Carnival Day is one of regional Victoria's best. Wander through the market and browse the variety of stalls while enjoying great local food and wine. There's music, entertainment and activities galore including the dog show with a few surprises here and there.
Get ready to reel, two-step and polka at the ChillOut Bush Dance. It's an all time classic and all about the hats, the gingham shirt and those boots that were made for dancing. The bush dance caller will take you through step by step whilst you make new friends, swinging those hips from side to side or front and back.
Now in its 6th year, the festival's very own gay comedy & cabaret club returns to the Daylesford Convent for 2 nights only. Featuring some of your favourite comedy stars from radio, stage and screen including Nath Valvo, Geraldine Hickey and Tina del Twist.
If you are looking for some great music, Melbourne rock goddess Michelle Parson brings her Women of Rock show following the huge success of her Melissa Etheridge tribute show last year, while Heather Peace will appeal to anyone who appreciates a rich vocal and an honest storyteller, and is supported by Monique Brumby.
The Hepburn Shire is all about food and wine, and the Daylesford Hotel will help keep you sustained over the weekend. How about sunset drinks on the balcony on Friday night, or indulge in a souvlaki and vodka whilst listening to DJs Peter Mac, Kista and Deb on Saturday and Sunday. And as the weekend comes to a close, share the stories at the recovery lunch on Monday with plenty of bloody mary's and excellent pub fare.
Then as the sun sets on another festival, get out your dancing shoes and head to the Daylesford Town Hall for ChillOut's own Dance Party The fabulous DJ line up includes Lindsay Marchment, Simon Edwards and Adam Love (direct from Sydney) – who have picked some of their favourite tracks that will get you shaking it on the dance floor.
For more information and the complete festival programme, visit: www.chilloutfestival.com.au for details.
Image: courtesy of ChillOut Festival