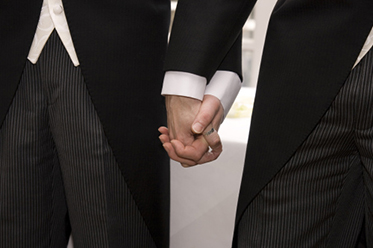 Marriage equality advocates have welcomed the Australian Government's decision to allow same-sex marriages in Australia's UK consulates, saying it shows Australia is moving forward on the issue.
The Australian Attorney-General, George Brandis has confirmed it will not exercise its power to veto same-sex marriages in UK consulates when they become available in June, opening the way for hundreds of Australian same-sex couples to marry where one partner is a British national.
In 2010 then Labor Attorney-General, Robert McClelland prevented same-sex marriages being conducted in Australia's Portuguese consulates after that country achieved marriage equality.
"We congratulate the federal government for respecting the right of British Australians to marry in British consulates here," said Australian Marriage Equality National Director, Rodney Croome.
"This shows that the federal government understands the world is changing and that Australia is moving forward on the issue."
"Now that the federal government has said 'yes' to same-sex marriages in UK consulates I look forward to it allowing a free vote so Australian same-sex couples can marry in Australia under Australian law."
On Friday (28 March), Greens Senator, Sarah Hanson-Young, announced a bill to lift on the ban on legally recognising overseas same-sex marriages in Australian law, as well as an inquiry into the impact of marriage equality in other countries.
Same-sex couples will begin marrying in England and Wales at midnight UK time (11am eastern Australian time).
For more information, visit: www.australianmarriageequality.org for details.