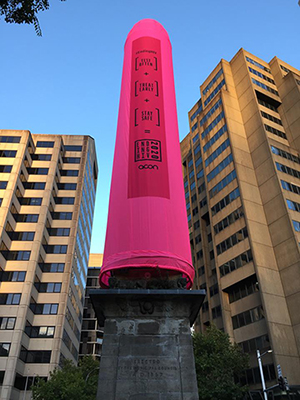 It's back!  Sydney's 18m Giant Condom – the one that caused an international sensation in 2014 – has been erected again on the Hyde Park Obelisk to promote condom use to gay men in the lead up to this year's Sydney Gay and Lesbian Mardi Gras.
And the safe sex promotion will climax on Bondi Beach later this morning when the famous stretch of sand turns pink with 1000 large condom-like pink inflatable rings to be given away to visitors by Stay Safe campaign 'lifesavers'.
In the week leading up to the Mardi Gras Parade, ACON want men who have sex with men to know that condoms are still an important part of HIV prevention and vital to efforts to end HIV transmission in NSW by 2020.
The giant pink prophylaxis has been erected on the Hyde Park Obelisk (corner of Elizabeth St and Bathurst St in the CBD) and will stay there until after Mardi Gras. The Bondi Beach event will help push the 'stay safe' message further by inviting visitors to help create a sea of pink tubes across the iconic coastline.
ACON CEO Nicolas Parkhill said Mardi Gras is an ideal time to remind locals and visitors that using condoms is one of the most effective ways to stop the transmission of HIV. "Every year around 80% of HIV transmissions in NSW are among men who have sex with men, so it's vital that we use opportunities like Mardi Gras to remind gay men about the health benefits of using condoms," said Mr Parkhill.
"While new drugs are starting to provide other means of protection against HIV, condoms remain central to the fight against the virus because they remain one of the most cheap and effective ways of preventing the transmission of HIV and other sexually transmissible infections."
"During Mardi Gras we're pulling out all the stops to get our 'stay safe' message to gay men. The Giant Condom was a massive hit here and overseas when we put it up for World AIDS Day in 2014, so we thought we'd roll it out again for this year's Mardi Gras to act as a highly visible safe sex reminder, not just for locals but also for the thousands of international visitors who come to Sydney for Mardi Gras."
"We're also taking our protection message to another Sydney landmark, Bondi Beach. By giving away 1000 pink condom-like blow up rings to the public, we're aiming to highlight the need for protection when you're having fun. When you go to the beach you need protection, protection from the sun and protection in the water. Sex is no different. The message is you can reduce the risk, stay safe and protect yourself and your partners from HIV by using condoms."
Mr Parkhill thanked the range of organisations which provided support for the Hyde Park and Bondi Beach promotions.
"We're very grateful for the support of Sydney Water, which manages the heritage listed Obelisk, and for the assistance we received from Waverly Council in relation to our Bondi Beach activity. It's great that they're supporting the health of Sydneysiders in this way."
For more information, visit: www.acon.org.au for details.
Image: Giant Pink Condom in Sydney – courtesy of ACON