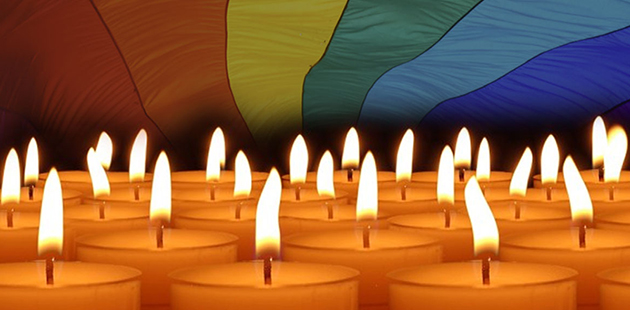 Last night (Monday 11 July) at the Sydney Town Hall, a superb line-up of Australia's top artists came together for a spectacular night of entertainment raising more than $70,000 for the Equality Florida Pulse Victims Fund.
Artists included Marcia Hines, Joel Creasey, Magda Szubanski, Simon Burke, Virginia Gay, Bob Downe, Shoshana Bean, Emma Matthews, iOTA, Paul Capsis, Trevor Ashley, Catherine Alcorn, Tom Sharah, Beccy Cole & Libby O'Donovan, Michael Griffiths, Michael Cormick, Shauna Jensen, Matthew Mitcham, DJs Sveta & James Tobin, and the Sydney Gay and Lesbian Choir.
Following is a transcript of a speech made by ACON President, Justin Koonin at From Sydney With Love – A Concert for Orlando.
Thank you Auntie Millie for welcoming us onto Gadigal land so warmly, as always. I would also like to acknowledge the traditional owners of this land, and pay my respects to their elders past, present and future.
I acknowledge too the elders of our own community, some of whom are in the audience with us tonight. The freedom we enjoy today exists, in large measure, thanks to the freedom you risked all those years ago. We will never forget that, nor take it for granted.
It is nearly forty years since Harvey Milk, San Francisco city supervisor and one of our most famous champions, said "If a bullet should enter my brain, let that bullet shatter every closet door", shortly before he was assassinated…
…nearly forty years too since our own 78ers took to the streets in what became the first Mardi Gras.
Since then, the lives of lesbian, gay, bisexual, trans and intersex people have transformed in this country and many others, including the United States.
A generation ago we were criminals. Today the clear majority of Australians support our right to marry the person we love, and we congregate not in the secrecy of the backstreets, but here in the Town Hall.
With all that we have achieved, it is easy to think that continued progress is assured; to become complacent.
And then, when something like the shooting in Orlando happens, we realise how thinly we are protected….how vulnerable we still can be.
In 1969, it was a police raid against the Stonewall Inn that triggered the riots, commonly considered the catalyst of the LGBTI rights movement as we know it.
It was from "out of the bars and onto the streets" that the 78ers poured.
For so many of us – now and in our collective history – the bars were the one place where we were safe….where we didn't have to hide and could be our true selves….where we didn't have to worry about whose hand we held…whom we kissed…how we spoke…how we danced…how we dressed.
And now, even there, we question whether we are safe.
The events of Orlando resonated so strongly with LGBTI people around the world people because their story is our story.
LGBTI people know what it's like to be different, to be excluded.
We know what it's like to have well-meaning politicians debate the legitimacy of our relationships and of our families….to see the health of our young people treated as collateral damage in a battle of ideologies….to worry about whether we can be ourselves at work, on the sporting field, and in our places of worship.
The attack in Orlando was, as has been widely reported in the media, an attack against all of us.
However, it was an attack on some of us more than on others.
It was a homophobic act, and every time that fact is not acknowledged, it makes us – our lives, our challenges – once again invisible.
Tonight, we are not invisible.
We stand here united.  We are proud, and we belong.
We join hands with our brothers and sisters and cousins around the world, in remembering the forty-nine lives our global family has lost and the many who were injured, as well as their families, loved ones and friends.
At the same time we acknowledge the courageous struggles faced by LGBTI people in places where violence against these people is perpetrated not by extremist individuals, but by decree of the state.
And we commit our energies to creating a world in which the dignity of all people, regardless of their sexual orientation, gender identity, intersex status… of their race, religion or ethnicity, is valued, and where diversity in all its forms is celebrated.
"Hope," Harvey Milk said, "will never be silent."
Thank you, Lord Mayor, councillors, and the City of Sydney, for welcoming us into this beautiful town hall.
Thank you to the amazing cast of performers and crew who are giving us their time so generously this evening, in particular Trevor Ashley, who has been the vision and the driving force behind tonight's event.
And thank you to every one of you who is here tonight, for lending your voice to that chorus of hope.
Love will win. Stand strong. Have a wonderful night!
For more information, visit: www.acon.org.au for details.