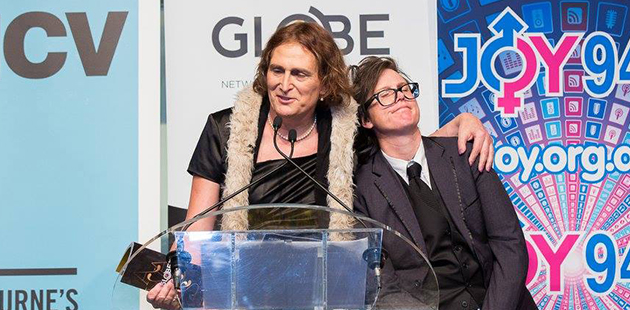 Melbourne's LGBTI community, friends and supporters frocked up for the announcement of inaugural GLOBE Community Awards held at the glamorous Myer Mural Hall on the evening of Friday 16 October. Each winner demonstrates the excellence through their work in supporting and growing the GLBTI community.
GLOBE President David Micallef was impressed with the calibre of winners, saying: "It is so wonderful to see the list of winners and read about the work they do. I am so proud of our community and these individuals and groups for the constant hard work they do to make Victoria an amazing place to identify as GLBTI."
"We received such a high standard of nominations, the winners of the 2015 GLOBE Community Awards really do represent the best of the best."
The 2015 GLOBE Community Award winners are:
A Healthy Community
Switchboard Victoria

Connecting the GLBTI Community – sponsored by RMIT
JOY 94.9
Protecting our Community – sponsored by Landers and Rogers
Kildonan Uniting Care for The Diversity Project
ANZ Excellence in Business Award
SensWide Employment for their WorkingOUT program
Media Excellence
Rachel Cook – MCV
Artist of the Year – sponsored by The Cullen
Lisa Daniel – Former Melbourne Queer Film Festival Director
Sports Person of the Year – sponsored by Aesop
Jason Ball – Yarra Glen Football Club
Straight Ally of the Year – sponsored by IBM
Dr Edwina Wright
Volunteer of the Year
Greig Friday
MCV People's Choice Award
Dr Graham Willett
Victorian GLBTI Person of the Year
Sally Goldner
For more information, visit: www.awards.globemelbourne.com.au for details.
Image: Sally Goldner and Hannah Gadsby – photo by Amplify Event Photography