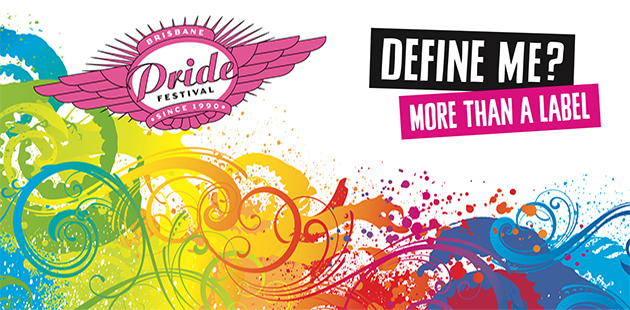 The 2014 Brisbane Pride Festival kicks off this weekend for a month of festivities with the theme Define Me? More Than a Label and includes a diverse selection of social, cultural and sporting activities.
Brisbane Pride Festival President Peter Black says: "Define Me? More Than a Label was chosen to empower Queensland's LGBITQ community to stand proud and counter the culture of labels that are placed upon them by others both inside and outside our community."
"We hope that the theme will make visible the concept of labels and encourage each person to take control of how they define themselves in a strong and bold manner," says Black.
The festival launches with Official Opening Gala Launch Party at Cloudland on Friday 29 August with live entertainment and launch of the Define Me campaign featuring local community members. Come out to play at the Queensland Aids Council 30th birthday Playbox Fundraiser. Featuring DJs Arsee, Lee Smith and Fradge with over-the-top production, lasers and sound at the newly-renovated Wickham Nightclub on Saturday 30 August.
Brisbane Pride Fair Day returns to New Farm Park on Saturday 20 September and it is shaping up to be even better than last year. Kicking off with the traditional Rally, the March will proceed down Brunswick Street to the rainbow flowering arches of New Farm Park, where gates will open from 10:30 am.
An incredible selection of food stalls and an array of market and community stalls will be on offer to delight, entertain and inform you. The main and community stage will feature local and national talent including Ryan Amador, who will perform Define Me – the inspiration behind this year's theme. The entertainment line-up will also include the Mr and Ms Pride competitions, Brisbane's best DJs and the traditional Pet Parade.
Other festival highlights include the official unveiling of new permanent LGBTIQ artwork in the front grounds of the New Farm Neighbourhood Centre: the Brisbane Lesbian and Gay Pride Choir take to the stage in Pride Does Broadway; and the (in)famous Pink Pub Prowl returns with a raucous and rowdy romp through the inner suburbs.
For more information and full programme, visit: www.brisbanepridefestival.com.au for details.
Image: courtesy of Brisbane Pride Festival