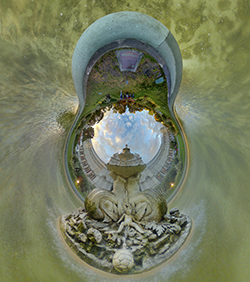 Artist statement:
Royal Exhibitionist is one of the images from my 'Twisted Icons'  – a series of panoramic images taken at iconic locations in and around Melbourne.
For me being a photographer is to be on a continuing discovery tour. My motto is to be open, alert and ready to capture life as it happens without having a specific brief or an expectation of a particular outcome.
The challenge for each photographer out there is to showcase a iconic location in a different light different perspective, possibly give it a completely different meaning or maybe complement and highlight what is already there.
My challenge was to capture iconic places that are daily photographed by many locals and tourists and are familiar all around the world and showcase them in a completely different way.
With this type of panoramic imagery this 'discovery tour' is even more unpredictable because the magic of image discovery happens in extensive post production process. The best way to describe the outcome of this process  – the final image  – is with this quote from Forrest Gump: Life is a box of chocolates, Forrest. You never know what you're gonna get.
To capture and create this series of images I used 360 x 360 degree panoramic camera and stitching software to stitch 108 individual images and manipulated to create what is technically referred to as  – Little Planet.
Image: Zina Sofer, Royal Exhibitionist 2016. Photography (A3 print)
Price: $300 – to purchase original artwork click here! To purchase an A3 giclée archival print, click here!
The winner of the inaugural Queer Art Prize Australia was announced on Friday 13 January 2017. An exhibition of finalists is currently on show at Chapel Off Chapel until Sunday 5 February 2017. For more information, visit: www.queerartprize.com.au for details.
Queer Art Prize Australia (QAPA) is an initiative of the Australian Pride Network – ABN: 52 551 990 041
Copyright © 2017 Australian Pride Network