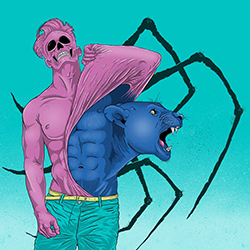 Artist statement:
This digitally produced work, that has been brought into the analog world as a print to canvas, speaks to reoccurring themes in this artist's work.
What lays beneath the surface of a beautiful or an attractive exterior? Strength? Power? Or something altogether more sinister? And do we care when the surface is so alluring?. Danger is as intoxicating as lust and passion.
The work was created by using reference photographs and sketching directly into Photoshop using a Wacom tablet. Further freehand digital painting techniques were employed to create the final image.
Image: Wade Goring (aka GWA), Peel & Reveal 2016. Digitally created, printed to canvas (84.1 x 84.1cm)
Price: $375 – to purchase original artwork click here! To purchase an A3 giclée archival print, click here!
The winner of the inaugural Queer Art Prize Australia was announced on Friday 13 January 2017. An exhibition of finalists is currently on show at Chapel Off Chapel until Sunday 5 February 2017. For more information, visit: www.queerartprize.com.au for details.
Queer Art Prize Australia (QAPA) is an initiative of the Australian Pride Network – ABN: 52 551 990 041
Copyright © 2017 Australian Pride Network