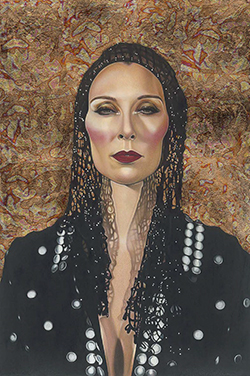 Artist statement:
Tom Christophersen is petrified of beautiful things and death. It is primarily the car-crashing of these two themes which permeate the hyperrealistic, almost surrealistic, often dark portraits he produces.
In a world of instant gratification and 'fast art', Tom aims to bring focus back to things that take a very long time to draw, paint or make, and that are of a level of detail which demands an intimate level of engagement from the viewer.
Tom hopes his traditional, technical approach, combined with the modern figures he creates (representing grey areas surrounding gender, sexuality, beauty and isolation) provide a fresh, immediate offering to portraiture and indeed representation of the self.
Tom's work asks if you would please lean a little closer for a better look and rethink something you thought was quite harmless, because, as it turns out, it is not.
Image: Tom Christophersen, Epicene 2016. Watercolour pencil, watercolour paint, white acrylic and gold leaf on watercolour paper (84.1 x 118.9cm)
Price: $2,000 – to purchase original artwork, click here! To purchase an A3 giclée archival print, click here!
The winner of the inaugural Queer Art Prize Australia was announced on Friday 13 January 2017. An exhibition of finalists is currently on show at Chapel Off Chapel until Sunday 5 February 2017. For more information, visit: www.queerartprize.com.au for details.
Queer Art Prize Australia (QAPA) is an initiative of the Australian Pride Network – ABN: 52 551 990 041
Copyright © 2017 Australian Pride Network