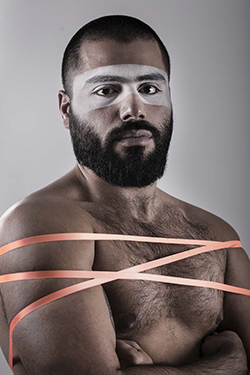 Artist statement:
I couldn't pass up the opportunity to photograph award-winning and acclaimed author George Haddad.
His novella Populate and Perish took out the 2016 Seizure Viva La Novella Prize, placing George clearly on the front line of young exciting LGBTI talent to watch out for in 2017.
I aimed to capture George's entangled, insightful and illuminating self; not unlike the characters in his novella.
.
.
.
.
.
.
.
Image: Stephen Laurence, George 2016. Photograph (19.8 x 29.7cm)
Price: SOLD – to purchase an A3 giclée archival print, click here!
The winner of the inaugural Queer Art Prize Australia was announced on Friday 13 January 2017. An exhibition of finalists is currently on show at Chapel Off Chapel until Sunday 5 February 2017. For more information, visit: www.queerartprize.com.au for details.
Queer Art Prize Australia (QAPA) is an initiative of the Australian Pride Network – ABN: 52 551 990 041
Copyright © 2017 Australian Pride Network