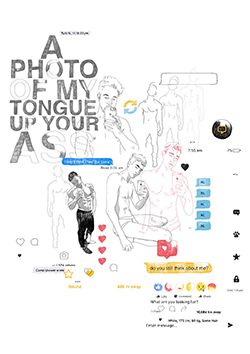 Artist statement:
There is lot of visual noise in navigating contemporary queer culture.
My practice concerns itself with an 'artist-as-anthropologist' study. Within this framework, I have attempted to not only contemplate the semiotic value of symbols and iconography of modern tech-based avatar interactions, but also to represent a 'self portrait' of sorts – using the 'other' as a study for the illustration.
What are the value of our connections and communications with each other at the moment?
Matto's work can be viewed at: www.mattolucas.com
Image: Matto Lucas, Modern Romance 2016. Work on Paper, (59.5 x 42 cm)
Price: $130 – to purchase click here!
The winner of the inaugural Queer Art Prize Australia was announced on Friday 13 January 2017. An exhibition of finalists is currently on show at Chapel Off Chapel until Sunday 5 February 2017. For more information, visit: www.queerartprize.com.au for details.
Queer Art Prize Australia (QAPA) is an initiative of the Australian Pride Network – ABN: 52 551 990 041
Copyright © 2017 Australian Pride Network