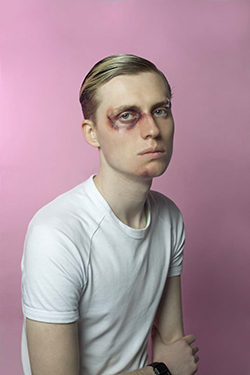 Artist statement:
My very first photography job was capturing events in the gay clubs of Auckland in exchange for free entry and a beer tab or a publicised credit to get my name out there. Along the way, I have met some good friends and people, some of them have even participated to become subjects of my portfolio.
Working in a studio has to be my favourite part of photography and is the space where I became more interested in portraits. My work is often inspired by renaissance paintings, pop culture, the fashion industry and the vibrant gay community.
The model or subject does not actually represent themselves in this moment but rather are directed to capture emotions – through their eyes and expression in order to portray a character, a certain experience or situation.
The work that I have submitted for this event is called Bruised #1, the first image for the series I am currently working on – captured in August 2016 . The concept was originally inspired by the 'Coward Punch' in Kings Cross, Sydney; where the victims are usually helpless young men.
I was inspired to create this series to described the internal bruise or injury we experience in many of the current social and political issues that we are dealing with, within and outside the gay community (such as marriage equality, homophobia, bullying and exclusion) My job as a portrait photographer allows a narrative, to be able to tell the story through the images that I capture. It allows the viewer to create their own interpretation, hopefully by a connection through the eyes and expression of the portrait.

Image: Lawrence Tan, Bruised #1 2016. Photograph (42 x 60cm)
Price: $500 – to purchase original artwork click here! To purchase an A3 giclée archival print, click here!
The winner of the inaugural Queer Art Prize Australia was announced on Friday 13 January 2017. An exhibition of finalists is currently on show at Chapel Off Chapel until Sunday 5 February 2017. For more information, visit: www.queerartprize.com.au for details.
Queer Art Prize Australia (QAPA) is an initiative of the Australian Pride Network – ABN: 52 551 990 041
Copyright © 2017 Australian Pride Network