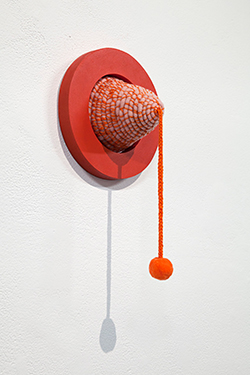 Artist Statement:
Karryn Argus makes soft sculptural objects, paintings, stitching's and installations that interrogate the relationship between making, materiality, abstraction and subjectivity.
Karryn's work Willing #1 uses the craft based practices of coiling and knitting to produce a soft sculptural bodily form that is mounted on a painted frame. Willing #1 engenders a self reflective, felt response as it suggests movement and humour whilst enticing the viewer to touch.
The production of sensations and affects in Karryn's work reflects her philosophy that art and life are more richly encountered through the felt experience.
Karryn's work can be viewed at: www.karrynargus.com

Image: Karryn Argus, Willing #1 2016. Sculpture (30 x 12 x 12cm)
Price: $280 – to purchase original artwork click here! To purchase an A3 giclée archival print, click here!
The winner of the inaugural Queer Art Prize Australia was announced on Friday 13 January 2017. An exhibition of finalists is currently on show at Chapel Off Chapel until Sunday 5 February 2017. For more information, visit: www.queerartprize.com.au for details.
Queer Art Prize Australia (QAPA) is an initiative of the Australian Pride Network – ABN: 52 551 990 041
Copyright © 2017 Australian Pride Network