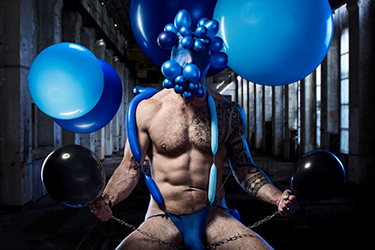 Artist statement:
This image was a collaboration between myself and Nik Dimopoulos. It was created as part of Nik's imagery for his legendary Trough parties which occur regularly in both Melbourne and Sydney.
This image represents my interpretation of fear, ignorance and misunderstanding. It is a portrait of my inability to understand and my visceral response to the direction of some recent political changes and movements, both here and abroad.
If you think this image is bizarre, how bizarre is voting Pauline Hanson back to Parliament! I am concerned for the current political zeitgeist.
Image: John McRae, One Nation 2016. Digital Print (130 x 90cm)
Price: $2,300 framed / $1,800 unframed – to purchase click here!
The winner of the inaugural Queer Art Prize Australia was announced on Friday 13 January 2017. An exhibition of finalists is currently on show at Chapel Off Chapel until Sunday 5 February 2017. For more information, visit: www.queerartprize.com.au for details.
Queer Art Prize Australia (QAPA) is an initiative of the Australian Pride Network – ABN: 52 551 990 041
Copyright © 2017 Australian Pride Network