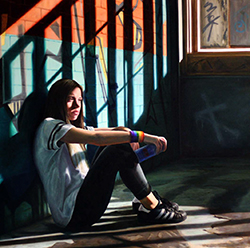 Artist statement:
86 refers to someone undesirable or unwelcome someone who is to be refused or excepted – it is rhyming slang for nix = nothing, a reject. Graffiti covers a decaying warehouse, within sits a girl, she is symbolic of the disembodied perspective society has when viewing young despondent individuals who do not fit into the conventions placed upon them.
The urban decaying setting, coupled with an expression of youthful angst serves to create a dark miasma. Socially maligned and existentially contemplative youth must go underground to express her thoughts feelings and creativeness.
Rich in symbolic imagery, and the effective utilization of chiaroscuro, represent the light and dark and confusion of self and sexual identity.
The use of rainbow flags has a long tradition; displayed in many cultures around the world as a sign of diversity and inclusiveness, of hope and of yearning, as well as homosexual pride. I have included the rainbow motif to bring awareness to and in protest of our government's stance on same sex marriage.
Image: Janne Kearney, 86. Oil on linen (100 x 100cm)
Price: Not for sale!
The winner of the inaugural Queer Art Prize Australia was announced on Friday 13 January 2017. An exhibition of finalists is currently on show at Chapel Off Chapel until Sunday 5 February 2017. For more information, visit: www.queerartprize.com.au for details.
Queer Art Prize Australia (QAPA) is an initiative of the Australian Pride Network – ABN: 52 551 990 041
Copyright © 2017 Australian Pride Network