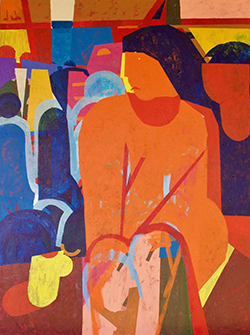 Artist statement:
My painting Coming Out was specifically painted for this art prize as it depicts a woman on her own, in despair, at the thought of exposing her full self. Will she be accepted for her authentic self and what will happen to her if she isn't.
I am a Social Worker and a mother. My art is driven by my observations of everyday social injustices and unnecessary human suffering. As a mother of 3 rather quirky children, I wish for a world where  everyone is treated with respect and dignity. I  would also like to see  more celebration of our unique and wonderful differences.
As someone  who is often described as 'different' and 'quirky', I know how it feels to be an outsider. The best people I know are queer, at least in some way.
Image: Helen Oprey, Coming Out 2016. Acrylic on canvas with textured underlay (91 x 122cm)
Price: $2,000 – to purchase original artwork click here! To purchase an A3 giclée archival print, click here!
The winner of the inaugural Queer Art Prize Australia was announced on Friday 13 January 2017. An exhibition of finalists is currently on show at Chapel Off Chapel until Sunday 5 February 2017. For more information, visit: www.queerartprize.com.au for details.
Queer Art Prize Australia (QAPA) is an initiative of the Australian Pride Network – ABN: 52 551 990 041
Copyright © 2017 Australian Pride Network