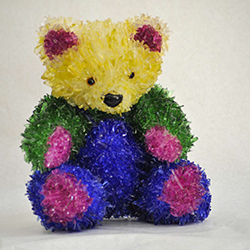 Artist statement:
Baretoo is the second in the series of bear sculptures that explore the connection between past memories and adult reality. The bear invites you to cuddle him but he has a protective exterior similar to the one children surround themselves  with,  providing  security in an uncertain world.
Bear was once a reassuring comforter of past hurts and pains, holder of secrets, provider of security, the soft furry warm coat has now been replaced with sharp, cold, hard, fragile shards of glass.
The childhood memories dissipated as the work progressed over many hours layering thousands of individual shards of glass.
No longer the special friend discarded or allotted to a place on the shelf as an impassive conveyer of childhood emotion, it now wears a protective colourful, heavy armor and is a beautiful reminder of critical decisions and changes that impact in our lives through the journey from childhood to adulthood.
Image: Glenda Kent, Baretoo 2016. Recycled Glass, Polyester, Silicon (32 x 30 x 19cm) – photo by Bill Purvis
Price: $2,000 – to purchase original artwork click here! To purchase an A3 giclée archival print, click here!
The winner of the inaugural Queer Art Prize Australia was announced on Friday 13 January 2017. An exhibition of finalists is currently on show at Chapel Off Chapel until Sunday 5 February 2017. For more information, visit: www.queerartprize.com.au for details.
Queer Art Prize Australia (QAPA) is an initiative of the Australian Pride Network – ABN: 52 551 990 041
Copyright © 2017 Australian Pride Network